Locking Up Santa by Nikki LeClair – Book Review
Locking Up Santa by Nikki LeClair – Book Review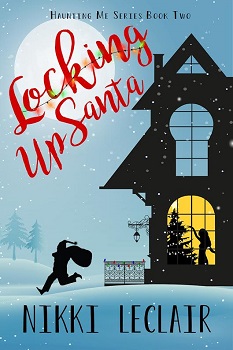 Locking Up Santa


An Edie Edwards Cozy Mystery Book Two
Author – Nikki LeClair
Publisher – CreateSpace
Pages – 352
Release Date – 9th November 2016
ISBN-13 – 978-1539372363
Format – ebook, paperback
Reviewer – Stacey
I received a free copy of this book
Post Contains Affiliate Links

It's the Christmas season, and seven months since Phoebe Mercer's life dramatically changed. She went from being an overworked legal assistant to a CEO of Lavish Looks Beauty Company. She moved from the bustling city to a quaint seaside town. She's gone from living with a fiancé to living with a ghost. Yet, it seems she can't get a grip on her new life, whether it's getting used to being a public figure, having a Chief Operating Official who hates her, or a ghost who is just too passionate.
As if things couldn't get any worse, Phoebe's mentor is suddenly arrested for a horrible crime and the town is ready to lock them away for good. The new product from Lavish Looks smells like a sewer, and people everywhere are noticing. Phoebe and her ghost find themselves having to race against time to prove her mentors innocence, and stop the company from sinking. Meanwhile, Phoebe must deal with a face from her past that throws her in a disarray of emotion, an unwanted visitor, and old friends who seem to have abandoned her.
Can she figure out whose sabotaging her life, and the company, before she finds herself behind bars for a crime she didn't commit?

Phoebe Mercer has gone from having a high-flying career in the city, to moving to the outskirts, living in a dead woman's house, which she now owns, and being the CEO of Lavish Looks. Oh, and she shares the house with Edie, the ghost of the woman who's house it used to be, and who's job she now has.
Phoebe finds the job hard going, but with Edie's help, and that of her mentor Henry, she is finally getting the hang of it. But with Henry being accused of committing a crime and thrown in jail, the new product launch from Lavish Looks is not exactly going well and with a face from the past returning, will Phoebe be able to pull herself together, save the company and her mentor, as well as herself and her sanity?
This is the second book in the Haunting Series. I haven't read the first book, but after being told it could be read as a stand-alone, and liking the look and sound of it, I decided to take part in the blog tour and review it. However I feel that the book really needs to be read as a series as the book carries on from the first one. Although you get a brief summary of how Phoebe ended up where she is now, the full details are not revealed.
Phoebe is a bright, young woman, who is eager to make her position as CEO of Lavish Looks work, but she is overwhelmed by it all. With a vindictive and conniving staff member who is determined to see her fail, she really does have a task on her hands. She did blow hot and cold for me though. Sometimes I just wanted her to grow a backbone and stand up for herself. That being said, she really is a character that I came to adore.
Edie, the ghost, is quite a forceful woman who likes her own way and is quite demanding, though she does have a soft spot for Phoebe. She acts like she is still very much alive and kicking. I'm not sure what she must have been like when she was living.
The book has plenty of exciting and shocking moments, alongside a few quite serious scenes. It is an easy read, and once you get into the story it is hard to put down. You could find yourself reading it in one sitting.
My only bug bear is that for a book with the title 'Locking Up Santa' I expected it to be more Christmassy, plus it also ends before Christmas Day has arrived. It does however end on a cliff-hanger, that will take the story in neatly to book three.
I would have loved to have met the characters in the first book, and gotten the backstory to Phoebe and Edie, but even, so I did enjoy the book. The whole debacle of who the saboteur was and why, gave the book an air of mystery, and kept me gripped.
Book Reviewed by Stacey
Excerpt
I pull my eyes from the screen and run a hand through my perfectly styled hair.
I have to focus on something other than the nipping dread that has suddenly popped up within me. I feel like I'm sitting on a chair of thorns.
"Fantastic job Phoebe." Paul gives me a thumbs up as his hair people return to comb through his puffy hair. "You look great!"
I give him a meek smile and look at Sharon, whose just been handed a new pile of cue-cards. She side eyes me as she reads the first one and I frown.
"What are those?"
"Source cards." She doesn't look at me as she answers. I catch the nervous expression Paul eludes and realize what she read earlier on those cards must have been the information she just threw at me.
"Who told you that we weren't cooperating with the police?" I ask her.
I know I shouldn't ask, I get the feeling I'm awakening the Kraken if I make her mad but I need to know how she knew this.
"I won't reveal my sources to you." Sharon laughs as she moves onto the next cue-card. "And I'd save that gusto my dear; you'll need it when we return from commercial break."
Paul snaps under his breath. "For Christ's sake, Sharon."
I sigh in defeat. "So you plan to harass me when the cameras roll again, is that right?"
"No! There won't be any harassment." Paul points his finger at me then he elbows Sharon harshly. "Right, Sharon?"
She shrugs and moves on to cue-card number three as the woman doing her makeup starts running a brush along her shiny forehead.
She's going to bombard me with whatever else is on those cards. I'm going to look like such an idiot, if I don't already. If she makes me angry then I'll say something rash, I know it.
This is a tacky talk show, watched by stay at home moms and bored housewives. This isn't Crime Report! This isn't CNN! This is one step up from the home shopping network!
Purchase Links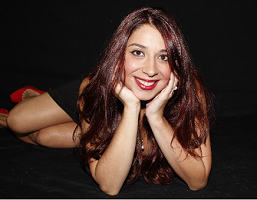 Nikki LeClair lives in Canada with her loving husband and their two rambunctious children. When she isn't ordering her children to behave or begging her Border Terrier to listen to her, she sits behind her lap-top plotting out the next adventure of her new characters. She's a fan of a good glass of Pinot Noir, and can't live without her favorite Tea blends.
She enjoys hearing from readers and fans of her work.
Author Links
www.nikkileclair.weebly.com
@NikkiL_Books
Facebook
Goodreads