Raft of Stars by Andrew J. Graff – Book Review
Raft of Stars by Andrew J. Graff – Book Review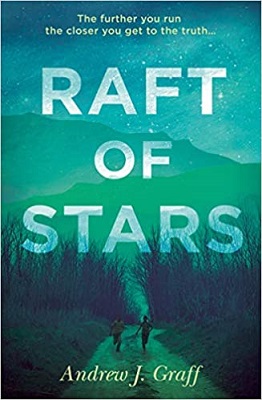 Raft of Stars
Author – Andrew J. Graff
Publisher – HQ
Pages – 304
Released – 15th April 2021
ISBN-13 – 978-0008456702
Format – ebook, paperback, hardcover, audio
Rating – 5 Stars
I received a free copy of this book.
This post contains affiliate links.


Synopsis
One summer night in Wisconsin, the lives of two ten-year-old boys are changed forever…
Tired of seeing his best friend Dale Breadwin abused by his alcoholic father, Fischer Branson takes action. A gunshot rings out, and Bread and Fish flee into the woods. They build a raft, but the river quickly leads them into even greater danger.
In their wake travel a group of adults – each determined to save the boys from the terrors of Ironsford Gorge.
The further they go, the more the wilderness starts to change them in profound and unexpected ways. And when they reach the edge of the Gorge itself, they begin to understand the true violence and beauty of the natural world, and its ability to heal.
No matter where you run danger will always follow…
Raft of Stars is a heartwarming story of love, friendship, loyalty, family, and trust wrapped up in an adventure story set in 90s Wisconsin town, Claypot, and the surrounding wilderness.
The plot's focus is on two best friends, ten-year-olds Fish (Fischer Branson) and Bread (Dale Breadwin). Every summer Fish comes to stay with his Grandpa. His friend Bread lives down the road with his violent father. One night after witnessing Bread getting a beating from his old man, Fish enters the house to help. He picks up a gun and shoots hitting Bread's father.
The boys scared and confused do the only thing they think they can and after obtaining some items to help them on their journey they enter the woods where a violent river rushes through, four-legged beasts roam, and menacing men prey.
This is a story that took me on a journey via different characters. I was expecting the book to mainly be about the boys and their travels through the woods but it was so much more and the boy's stories are just one part of the book. We get to meet Fish's Grandpa, Teddy, who has seen all kinds of atrocities during his time in the military and likes the quieter life but will stop at nothing to find the boys.
We also get to meet the local police officer, Sheriff Cal who feels out of his depth as the only shooting around there is farmers shooting animals. His journey in the book is an awakening about what he truly wants from his life. We also meet Fish's mother who is grieving and is a very religious woman (Pentecostal) who waits for signs from God before she does anything including looking for the boys.
This is a story of people coming to terms with their choices in life, their pasts, and their futures by coming together to help find the boys. It is a powerful book that had me gripped throughout, especially as the boys got deeper into the woods on their makeshift raft and didn't understand the dangers that they were in.
Raft of Stars is a beautiful story that was joyous to read and played with my emotions. Each page is easy to imagine with its rich descriptions of the surroundings and characters that have been written superbly and with a lot of consideration to their different plights in life and their ages. It has been well researched and is definitely one book you need to pick up this year.
Purchase Online From:
---
What did you think of 'Raft of Stars'? Share your thoughts in the comment section below!
---
The above links are affiliate links. I receive a very small percentage from each item you purchase via these link, which is at no extra cost to you. If you are thinking about purchasing the book, please think about using one of the links. All money received goes back into the blog and helps to keep it running. Thank you.
Like us on Facebook – Tweet us on Twitter – Pin us on Pinterest – Join us on Instagram