Take It Back by Kia Abdullah – Book Review
Take It Back by Kia Abdullah – Book Review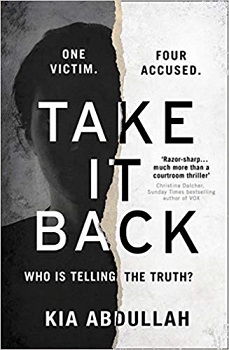 Take It Back
Author – Kia Abdullah
Publisher – HQ
Pages – 384
Released – 8th August 2019
ISBN-13 – 978-0008314675
Format – ebook, paperback, hardcover, audio
Reviewer – Stacey
Rating – 5 Stars
I received a free copy of this book.
This post contains affiliate links.
The Victim: A sixteen-year-old girl with facial deformities, neglected by an alcoholic mother. Who accuses the boys of something unthinkable.
The Defendants: Four handsome teenage boys from hardworking immigrant families. All with corroborating stories.
Whose side would you take?
Zara Kaleel, one of London's brightest young legal minds, shattered the expectations placed on her by her family and forged a glittering career at the Bar. All before hanging up her barrister's wig to help the victims who needed her most. Victims like Jodie Wolfe.
Jodie's own best friend doesn't even believe her claims that their classmates carried out such a crime. But Zara does. And Zara is determined to fight for her.
Jodie and Zara become the centre of the most explosive criminal trial of the year, in which ugly divisions within British society are exposed. As everything around Zara begins to unravel she becomes even more determined to get Jodie the justice she's looking for. But at what price?

Jodie Wolfe is a sixteen-year-old white girl with facial deformities, who has had a hard life. She lives in a council flat with her alcoholic mother who blames her for ruining her life with her looks. She is also constantly bullied and the family has next to no money.
Jodie is surprised when attending a house party that the most popular and sexiest boy in her school, Amir Rabbani, wants to make out with her. He leads her away from the party and to a nearby disused building.
When they arrive three of his friends turn up. What happens next is one girl's word against four young lads words. Jodie accuses three of the boy's of rape but the boys stories all collaborate and they swear that they never touched Jodie.
With rape councillor Zara Kaleel, once a promising young lawyer on her side Jodie prepares to go to court but with doubt creeping in both directions this is going to a huge case, one that has already been leaked to the media and they are having a field day with it, especially when they realise that three Asian lads from immigrant families might just have raped a white girl.
All I can say is OMG this book is so amazing. This is how you capture your audience and keep them entertained throughout. The story is explosive and hard to swallow at times, especially when the media get wind of the case and blow everything up for clickbait or to sell more papers.
Jodie is a young girl who has had a rough ride. Imagine being the laughing stock of your school, being so poor you can barely eat and having a mother (no father or siblings) that blames you for her life being a mess and is mainly found either drinking or passed out. Her mother also doesn't believe a work Jodie says and won't help her with the trial, neither will those she thought were her friends.
The four young lads – Amir Rabbani, Hassan Tanweer, Mohammed Ahmed and Farid Khan – three who have been accused of rape, one who was present but didn't touch Jodie, are all from hard-working immigrant families. They are well respected in their community and their friends and families don't believe any of them could be capable of rape.
Councillor Zara loves her job. she is sometimes reckless, emotionally cut-off from her family and any potential partners and relies heavily on prescription drugs to get her through the day, and sometimes to give her a high. Zara herself didn't have it easy growing up and after being in an arranged marriage and then getting divorced she became an outsider to her family a disappointment, she is determined that no-one else feels like that, ever.
The book deals with all three sides but told in the third person. You are given both sides of what happened regarding the rape and watch it play out. There were things that Jodie did that I questioned and the same with the lads and their families. There are a lot of layers to the book which you have to peel back the further you get into the story. It is one of those books that you really want to get to the end to find out the truth but you don't as you don't want the book to finish.
The plot will play with your emotions. I don't mean that it will make you upset but in that, you will feel anger for Jodie at the life she's led and what has happened to her. Furious with the news outlets who see the court case as a means to sell their papers and they don't give a damn about anyone's feelings. Pity for Zara at what she has been through but empathy for the life she created for herself. As I said, it is emotional and also draining at times but it is well worth your time.
Book Reviewer – Stacey
---
Purchase online from:
---
About the Author

Kia Abdullah is an author and travel writer from London. Her new novel Take It Back is out now (HQ/HarperCollins, Aug 2019).
Kia has contributed to The New York Times, The Guardian, BBC and Lonely Planet, and is the founding editor of outdoor travel blog Atlas & Boots, read by 250,000 people a month.


---
What did you think of the book? Share your thoughts in the comment section below!
---
The above links are affiliate links. I receive a very small percentage from each item you purchase via these link, which is at no extra cost to you. If you are thinking about purchasing the book, please think about using one of the links. All money received goes back into the blog and helps to keep it running. Thank you.