Eve by Emyli Evyrling – Book Review
Eve by Emyli Evyrling – Book Review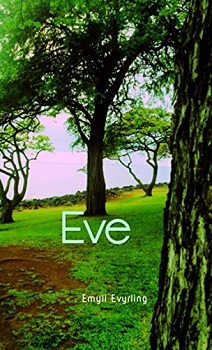 Eve
Author – Emyli Evyrling
Pages – 71
Release Date – 5th October 2015
Format – ebook
Reviewer – Stacey
I received a free copy of this book
Post Contains Affiliate Links

Synterra has colonized the ancient realm of Skye. Their toxic empire extends to all of the seven planets but one, Eliya- a mythical planet that dwells within Skye's central star. Mylari is a miner at one of their many work camps and seeks to escape her bondage in the depths of planet Kāla.
Her quest for freedom guides her to a sacred place where she is granted the power to control Lava. She must adapt to new environments and a new identity as Gaardian while seeking access to Eliya, and the Tree of Life.

Eve is a very quick read at only 71 pages long, and should easily be read in one sitting.
The protagonist of the story, Mylari is just seventeen years old. She has spent her life being a slave, working underground for the Synterra. Her life's wish has been to be free, and to restore balance to her realm. Will she have the courage though to make these changes in her life?
Eve is pure fantasy, and a little out of my comfort zone. The issue that I sometimes have with fantasy books is how far from reality some of them can be, but to hardcore fans of this genre, the further from reality, the better, meaning that this book is a must read.
Mylari is a wonderful character, and you can't help but want her to succeed. I often found myself holding my breath at some of the things that she did, hoping that she didn't get caught by the enforcers.
I've recently mentioned in some of my reviews about short stories needing pace, and Eve certainly has it. It is fast-paced from beginning to end.
Even though the book is not within my usual genre of reads, I can appreciate good writing, and understand the time and effort it takes to create such a fantasy realm that it will hold readers' imaginations, plus a setting that they will find intriguing, and a plot that they can get involved with, one that keeps them turning the pages. Eve definitely has all of those qualities.
If you love fantasy, then Eve is the book for you.
Book Reviewed by Stacey