Elephant in my Kitchen by Smriti Halls – Book Review
Elephant in my Kitchen by Smriti Halls – Book Review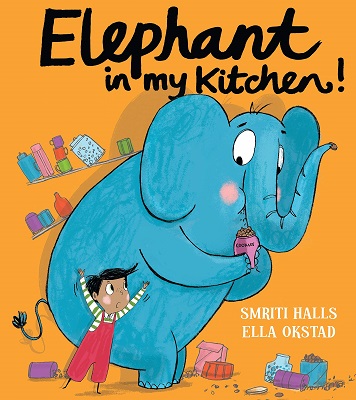 Elephant in my Kitchen
Author – Smriti Halls
Illustrator – Ella Ostad
Publisher – Egmont
Pages – 32
Released – 2nd April 2020
ISBN-13 – 978-1405295666
Format – paperback
Review by – Stacey
Rating – 5 Stars
I received a free copy of this book.
This post contains affiliate links.


A funny, silly and hugely topical picture book that is perfect for inspiring the next Greta Thunberg or David Attenborough. This accessible call to action helps raise awareness about the world's climate crisis and is perfect for introducing little ones aged 3+ to the issues affecting our planet.
What if . . .
There was an elephant in your kitchen,
A tiger on your loo,
A gorilla in your bedroom,
Whatever would you do?
When wild animals move into Rafi's house, he needs to figure out a BIG PLAN to get them back to their own homes.
This is a positive, empowering and fun picture book about taking care of the planet.

In a little boy's house, the animals have taken over. There is an elephant in the kitchen who is eating all the chocolate biscuits, a polar bear in the fridge licking lollies, and an orangutan in the bathroom putting toothpaste in his ear.
When the little boy tries to go to bed the frogs are too loud and so he has had enough and brings the animals together to find out why they are in his house. Turns out their homes are being destroyed and they have no-where else to go.
Elephant in my Kitchen is a truly amazing book. It is fun, it rhymes and it is educational too. Trying to save the planet is something at the very forefront at the moment and children are learning more and more about what is happening in parts of the world and to the animals.
This book will amusingly explain to little children what is happening around the world and how they can help by doing some small things such as stopping using plastic straws and recycling items.
The pages are filled with amazing full-page illustrations that capture the essence of the book perfectly. If you want your little children to learn about what is happening to the planet and how they can help, this book would be perfect as it explains things in an easy to understand manner and will have them giggling along too.
Book Reviewer – Stacey
---
Purchase online from:
---
About the Author

Smriti Halls worked for the BBC and began a career in children's publishing and television as a writer and commissioning editor. She started writing her own books in 2012 and is now published in more than 30 languages worldwide, with bestselling and award-winning titles to her name. Smriti lives in London with her family and one well behaved dragon named Doris.



---
What did you think of Elephant in my Kitchen? Share your thoughts in the comment section below!
---
The above links are affiliate links. I receive a very small percentage from each item you purchase via these link, which is at no extra cost to you. If you are thinking about purchasing the book, please think about using one of the links. All money received goes back into the blog and helps to keep it running. Thank you.
Like us on Facebook – Tweet us on Twitter – Pin us on Pinterest