Super Sloth by Robert Starling – Book Review
Super Sloth by Robert Starling – Book Review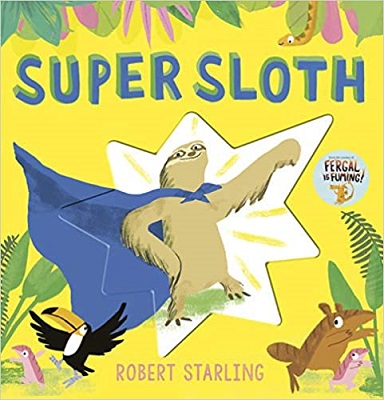 Super Sloth
Author – Robert Starling
Publisher – Andersen Press
Pages – 32
Released – 2nd April 2020
ISBN-13 – 978-1783448821
Format – paperback, hardcover
Review by – Stacey
Rating – 4 Stars
I received a free copy of this book.
This post contains affiliate links.


Super Sloth isn't fast. He can't fly. But he is very, very good at moving slowly and looking just like a greenish bit of tree. When his arch enemy Anteater makes off with some prize mangoes, Super Sloth vows to save the day … eventually.
From the creator of Waterstones Prize shortlisted Fergal is Fuming comes Starling's laugh-out-loud tale of one ordinary sloth turned super hero.

One day whilst hanging in his tree Sloth see's something on the floor and goes to investigate. It is a comic book with a caped crusader. Sloth read the comic over and over and decided he wanted to be a superhero.
After finding something to use as a cape, Sloth went in search of animals needing his help and it wasn't long until he could hear cries of help coming from the forest floor, but will Sloth be any good as a superhero and save the day or will he be too slow to be any help?
Super Sloth is young children's picture book that is a fun read and contains some fabulous, colourful, and full-page artwork that brightens up the pages. I love that the book is about one of the slowest animals wanting to be a superhero, but you know speed isn't everything! Sloth is such a loveable character and you can't help warming to him.
I think children will love this book and find it amusing. How often do they get to read books featuring a sloth? Kids also get to read about some sloth facts at the back of the book. An amazing story and one that is educational too – brilliant!
Book Reviewer – Stacey
---
Purchase online from:
---
About the Author

Robert Starling began doodling creatures and characters at school and hasn't stopped since. He lives and works in Bristol, England, and when he's not sketching up new characters or writing down stories he can be found sculpting, brewing coffee, or teaching kids.




---
What did you think of Super Sloth? Share your thoughts in the comment section below!
---
The above links are affiliate links. I receive a very small percentage from each item you purchase via these link, which is at no extra cost to you. If you are thinking about purchasing the book, please think about using one of the links. All money received goes back into the blog and helps to keep it running. Thank you.
Like us on Facebook – Tweet us on Twitter – Pin us on Pinterest