Elmer's Birthday by David McKee – Book Review
Elmer's Birthday by David McKee – Book Review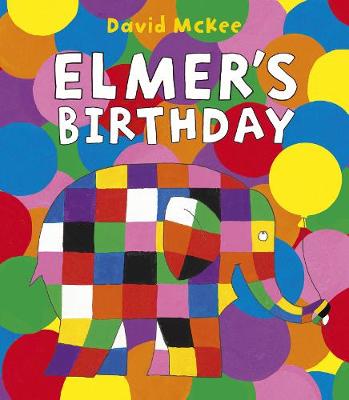 Elmer's Birthday
Author – David McKee
Publisher – Andersen Press
Pages – 32
Released – 7th May 2020
ISBN-13 – 978-1783448906
Format – paperback, hardcover
Review by – Stacey
Rating – 4 Stars
I received a free copy of this book.
This post contains affiliate links.


The elephants decide it's their turn to play a trick on Elmer: all of the animals must pretend to forget his birthday tomorrow! But when the day comes the trick doesn't quite go according to plan. The elephants should have listened to Elmer's friends…

One of Elmer the Elephants friends decides it would be a fun idea tomorrow to pretend that all the animals have forgotten it is Elmer's birthday until the afternoon when they will surprise him with celebrations and cake.
The elephant needs to get all the other animals on board with him but some are reluctant, however, he tells them no 'buts' just to do it.
The next day Elmer can't understand why some of the animals are either sniggering at him or running away. What will he say when the surprise is revealed?
Elmer's Birthday is a lovely young children's picture book that compliments the vast series that has been going strong for decades.
The book, as usual, is brightly coloured and the illustrations are bold and catch the eye. The plot was a mixed bag in that pretending to have forgotten someone's birthday is part fun and part mean, but making animals do something they don't want to do didn't really sit right with me. It felt like the elephant was forcing others to do what he wanted.
The book is a good length for either a class read or a bedtime story. The text is slightly more than your average picture book but didn't contain any complicated words so would be good for a new reader or a confident reader, rather than one who is still learning.
Despite my reservations on the plot, the book is cute, funny at times, and contains cake so what's not to like!
Book Reviewer – Stacey
---
Purchase online from:
---
About the Author

David is the creator of several well-known characters including King Rollo and Mr Benn. His most famous creation is Elmer the Patchwork Elephant which is now published in more than 50 languages and has its own successful global merchandise programme.
David McKee was born in Devon and went to Plymouth Art College, where he had a traditional training. On leaving college he drew regularly for, among others, Punch, Reader's Digest, and The Times Educational Supplement. His drawings were influenced especially by Saul Steinberg and Andre Francois. David lives in Arles, France.

---
What did you think of Elmer's Birthday? Share your thoughts in the comment section below!
---
The above links are affiliate links. I receive a very small percentage from each item you purchase via these link, which is at no extra cost to you. If you are thinking about purchasing the book, please think about using one of the links. All money received goes back into the blog and helps to keep it running. Thank you.
Like us on Facebook – Tweet us on Twitter – Pin us on Pinterest