The Sister Surprise by Abigail Mann – Book Review
The Sister Surprise by Abigail Mann – Book Review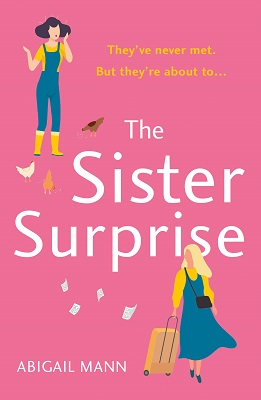 The Sister Surprise
Author – Abigail Mann
Publisher – One More Chapter
Pages – 384
Released – 25th March 2021
ISBN-13 – 978-0008430702
Format – ebook, paperback
Review by – Stacey
Rating – 4 Stars
I received a free copy of this book.
This post contains affiliate links.


Journalist Ava takes a DNA test hoping to discover her roots. Instead, she finds out she has a half-sister … whilst on a live stream watched by 100,000 people. Her boss thinks it's the perfect click-bait story. Ava just wants to go to Moira's tiny Scottish village and meet her.
But when Ava arrives undercover as a volunteer farmhand, she realises Moira – who's her pig-wrestling, chatterbox polar opposite – might not be delighted by the news. And the longer Ava stays in Kilroch, with its inappropriately attractive minister and ties to her hidden family past, the more complicated this surprise is going to get…

Ava has never known who her father was. Her mum was an activist in her youthful days and had a fling with another activist which resulted in Ava. She works for an online news blog that has decided to run a live article on DNA kits and Ava is one of the test subjects.
After discovering she has a half-sister who is from a tiny place in Scotland and then nearly throwing up live on air, the blogs audience numbers go through the roof and her boss thinks it would be a good idea if she went to Scotland in search of her half-sister, Moira, and document her search.
The only place she can find to stay in the tiny village is on a working farm where she is offered a room in exchange for helping run it. With no other options Ava agrees but farm work is a million miles away from being a journalist, and can she locate her sister and what will she say when she does?
The Sister Surprise is a humorous look at one woman's life as it is turned upside down thanks to a DNA test she has been made to take at work for an article. It has always been just her and her mother and so finding out that she has at least one sister is both exciting and nerve-wracking for her.
The story follows Ava, who is bright, independent, and a trier, though accident-prone, on her search for her sister and helping out on the farm, which doesn't get off to a good start from breaking the quad bike to annoying one of the locals.
The book was a little slow to get going as it concentrates on Ava, her mum, and her job at the beginning. It took a bit to get into the action and Ava travelling to Scotland. Once she finally gets there, begins her new work, and meets her sister, though she doesn't tell her, the pace picked up and so did my intrigue.
This is a book which you can escape into to enjoy the banter and humour between the characters, including a hot minister who likes a joke or two. It is uplifting and it made me smile throughout.
Book Reviewer – Stacey
---
Purchase online from:
---
About the Author

Abigail is a comedy writer living in London and surviving on a diet of three-shot coffee, bourbons, and vegetarian sausage rolls. She was born and brought up in Norfolk, which she says is to blame for the sardonic humour that runs through her novels. Abigail was the runner up in 2019's Comedy Women in Print award for THE LONELY FAJITA: her first novel.
Abigail takes inspiration from unconventional cross-sections of modern society and the impact this has on identity and the relationships we create. She wrote her first novel after teaching literature for a number of years and whilst working in the fast-paced co-working spaces of East London.





---
What did you think of The Sister Surprise? Share your thoughts in the comment section below!
---
The above links are affiliate links. I receive a very small percentage from each item you purchase via these link, which is at no extra cost to you. If you are thinking about purchasing the book, please think about using one of the links. All money received goes back into the blog and helps to keep it running. Thank you.
Like us on Facebook – Tweet us on Twitter – Pin us on Pinterest