Imagine Eating Lemons by Jason Rhodes – Book Review
Imagine Eating Lemons by Jason Rhodes – Book Review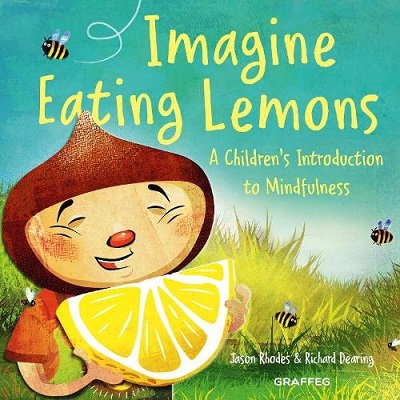 Imagine Eating Lemons
A child's introduction to mindfulness
Author – Jason Rhodes
Illustrator – Richard Dearing
Publisher – Graffeg Limited
Release Date – 16th June 2022
Pages – 36
ISBN 13 – 978-1802580891
Format – ebook, paperback
Star Rating – 4
I received a free copy of this book.
This post contains affiliate links.

Synopsis
Chester Chestnut is a happy little chap, but sometimes even the happiest of chaps get worried or nervous and when this happens Chester's tummy starts to hurt. Follow the journey of Chester Chestnut as he learns about his anxious thoughts and feelings, where they come from and how to control them.
Imagine Eating Lemons is a children's picture book that teaches the reader about mindfulness.
It really is a shame that we need to be teaching our little ones about this subject but that is the world we live in today!
Author Jason Rhodes who has suffered from anxiety for years teaches children how to be mindful via techniques he has learned using the character Chester Chestnut who gets anxious about different situations.
I loved nearly all of the techniques but the one I couldn't do is the title of the book – Imagine Eating Lemons. The author states that if you imagine it you will taste them, that's how powerful your brain is. I certainly couldn't do it and I asked six other people, including a child, but none could do it either. Perhaps some people can imagine eating food and get the taste, just none of us could.
Overall, a sweet story with wonderful full-page illustrations that has a repetitive message throughout that is there to help children overcome their anxiety attacks when they occur.
---
Purchase Online:
Jason Rhodes
Jason Rhodes came to write the children's book Imagine Eating Lemons as part of a much larger vision. He wants to educate the younger generation with the simple tools needed to help manage their thoughts and feelings, resulting in a much more peaceful and connected world.
Having suffered from extreme anxiety himself for many years he discovered the practice of mindfulness and life quickly began to change. He has now ended his career as a film actor and decided to focus all of his energy on helping to spread awareness of this life-changing practice.
Author Links:
---
The above links are affiliate links. I receive a very small percentage from each item you purchase via these links, which is at no extra cost to you. If you are thinking about purchasing the book, please think about using one of the links. All money received goes back into the blog and helps to keep it running. Thank you.