Ashes in Venice by Gojan Nikolich – Book Review
Ashes in Venice by Gojan Nikolich – Book Review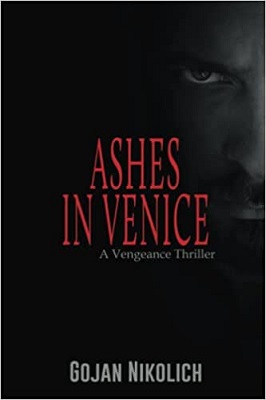 Ashes in Venice
Author – Gojan Nikolich
Publisher – Black Rose Writing
Release Date – 3rd March 2022
Pages – 339
ISBN 13 – 978-1684338917
Format – ebook, paperback
Star Rating – 4.5
I received a free copy of this book.
This post contains affiliate links.

Synopsis
A heartless psychopath with size 16 shoes, nursing home hookers and an irreverent Las Vegas homicide detective with a gambling habit set the tone for this off-beat tale of revenge and retribution.
Blackjack addict Frank Savic is deeply in debt and facing family problems when he's asked to delay his retirement to catch a vigilante killer who murders other murderers in a manner the veteran cop has never seen.
While dead bodies stack up in quick succession, the motorcycle-riding policeman also finds himself reluctantly involved with a desperate mother who will do anything to get justice for her dead son.
Savic, his investigation complicated by a suspected FBI coverup and a prison bribery scandal, is unaware that the murderer might be the solution to his own financial and domestic dilemma.
Add a vengeful killer who seeks justice for his own unbearable loss and you have a teasing psychological thriller that blurs the line between good and evil and where surgical bone saws and spiders are just tools of the trade.
Las Vegas Detective Sargent Frank Savic has a problem: corpses are showing up around southern Nevada. But these aren't your everyday murders. The victims are themselves notorious killers and the way they've been killed is, shall we say, unusual. Savic works the case with grim determination, all the while dealing with his wife's memory loss. If you think you know how this book ends, you're probably wrong. I can't say much more about the story itself without spoilers.
Ashes in Venice uses narration from multiple viewpoints woven skillfully together to tell a story. It took me a few chapters to realize how the different subplots were going to come together, but after a bit of initial confusion, the story became very engaging. Detective Savic is someone you can sympathize with, human and caring, although he has his faults, too. Even the supposed villain isn't so terrible once you know enough of his backstory.
Billed as a "vengeance thriller," the book contains more gore and violence than some people would care for. However, it is chock full of plot twists and unexpected developments that will keep the reader guessing right up to the end.
I can enthusiastically recommend Ashes in Venice, although squeamish readers might want to take a pass.
---
Purchase Online:
Gojan Nikolich
Gojan Nikolich is a former Chicago newspaper reporter, editor and public relations agency executive. He graduated with B.A. and M.A. degrees in English Literature from DePaul University, served as a U.S. Army sergeant with both the 2nd and 4th Infantry divisions and worked as a journalist in Korea and Japan.
He lives with his family in Colorado, where he and his wife once owned a weekly newspaper. This is his second novel.
Author Links:
---
The above links are affiliate links. I receive a very small percentage from each item you purchase via these links, which is at no extra cost to you. If you are thinking about purchasing the book, please think about using one of the links. All money received goes back into the blog and helps to keep it running. Thank you.