Read Island by Nicole Magistro – Book Review
Read Island by Nicole Magistro – Book Review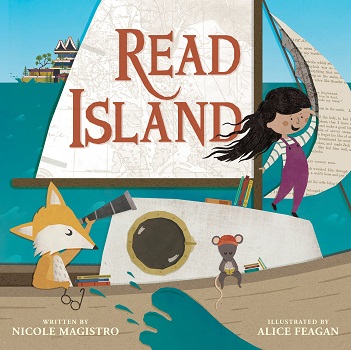 Read Island
Author – Nicole Magistro
Illustrator – Alice Feagan
Publisher – Read Island, LLC
Pages – 40
Released – 1st October 2021
ISBN-13 – 978-1736523308
Format – hardcover
Rating – 5 Stars
I received a free copy of this book.
This post contains affiliate links.


Synopsis
Join a very brave girl and her furry friends on an adventure to Read Island! Through the power of imagination and the pleasure of reading, this curious trio set sail for a magical island made of books. On their way they discover a joyful collection of animals converging by sea and land, just in time for an unforgettable story hour.
A rhyming celebration of nature, books and the importance of stories, Read Island invites you to experience the diversity and wonder of a hidden and wild place. In the company of sea wolves, humpback whales and spirit bears, readers will discover simple meditations that summon a magical destination – one filled with beloved friends, safe spaces and stories to be revisited again and again.
For make-believe though it may look,
There is an island made of books.
This world of stories, safe and true,
Is always here to welcome you.
Read Island is a young children's rhyming story about the power of reading and the adventures you can go on via the pages. Join a young girl, a little mouse, and a lovable fox as they cross the water in their small boat to an island made of books.
Be enchanted as stories are shared amongst the residents when the wolf summons them to come together. Remember to breathe out, then in again, and listen.
Surrounded by full-page bright, colourful, and imaginative illustrations, Read Island is a beautiful book that will show children that books are far more than just pieces of paper put together, they are adventures and mysteries. They can take you all over the world or out of this world. They give you joy and excitement and can make you happy.
I'm not sure it is just children who would like to visit Read Island, I have a feeling a few older bookworms would love the place too. An island made of books sounds like great fun.
This is a story to get the reading spark started in a young child. It is wonderfully written and was mesmerising the whole way through.
Purchase Online From:
---
What did you think of 'Read Island'? Share your thoughts in the comment section below!
---
The above links are affiliate links. I receive a very small percentage from each item you purchase via these links, which is at no extra cost to you. If you are thinking about purchasing the book, please think about using one of the links. All money received goes back into the blog and helps to keep it running. Thank you.
Like us on Facebook – Tweet us on Twitter – Pin us on Pinterest – Join us on Instagram