A Boy Called Christmas by Matt Haig – Book Review
A Boy Called Christmas by Matt Haig – Book Review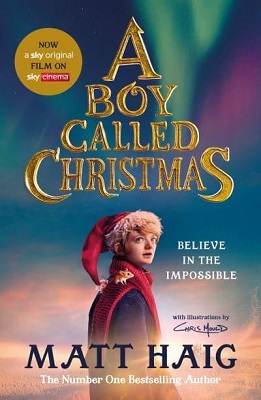 A Boy Called Christmas
A Boy Called Christmas Book One
Author – Matt Haig
Illustrator – Chris Mould
Publisher – Canongate Books
Pages – 288
Released – 3rd November 2016
ISBN-13 – 978-1782118268
Format – ebook, paperback, hardcover, audio
Rating – 4.5 Stars
I received a free copy of this book.
This post contains affiliate links.


Synopsis
BELIEVE IN THE IMPOSSIBLE
You are about to read the TRUE STORY of FATHER CHRISTMAS.
If you are one of those people who believe that some things are impossible, you should put this book down right away.
(Because this book is FULL of impossible things.)
Are you still reading?
Good.
Then let us begin…
A Boy Called Christmas is the first book in a series of three Christmas books from author Matt Haig with 'The Girl who Saved Christmas' and 'Father Christmas and Me' being the second and third books.
In this story, we meet eleven-year-old Nikolas who is called Christmas by his family because he was born on Christmas Day. He lives in a remote hut in Finland with his father and his only friend, a little mouse called Miika.
When his father is offered a lot of money to take a group of men north to locate a magical city called Elfhelm and prove to the King that elves really do exist, he leaves Nikolas behind with his nasty aunt who treats him badly. Refusing to put up with her behaviour, Nikolas sets out to find his father through the bleak and cold landscape but discovers much more.
A Boy Called Christmas is a wonderfully festive middle-grade story that has recently been made into a movie (I'm yet to watch it). When I began writing this review I realised that I had read book three in the series back in 2017 and for some reason, I had forgotten, even with some of the same characters making an appearance!
The tale is beautifully told and is a special take on how Father Christmas came to the world. The book is one long adventure with magic swirling around it, complete with a feeling of joy and hope. There are also plenty of amazing and enchanting illustrations to look at too.
The book has a lot of charm within it and plenty of fun characters, including pixies, reindeer, trolls, elves, and hunters. This is the perfect story to pick up to get you into the Christmas spirit. Imaginatively written, this is one book that will stay with children for a long after they have finished reading it.
Purchase Online From:
---
What did you think of 'A Boy Called Christmas'? Share your thoughts in the comment section below!
---
The above links are affiliate links. I receive a very small percentage from each item you purchase via these links, which is at no extra cost to you. If you are thinking about purchasing the book, please think about using one of the links. All money received goes back into the blog and helps to keep it running. Thank you.
Like us on Facebook – Tweet us on Twitter – Pin us on Pinterest – Join us on Instagram