Elphie Goes Trick or Treating by Hagit R. Oron – Book Review
Elphie Goes Trick or Treating by Hagit R. Oron – Book Review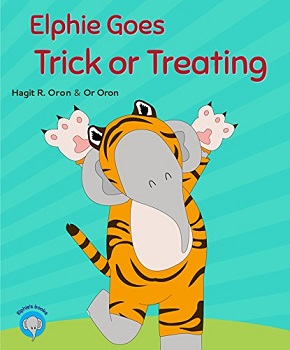 Elphie Goes Trick or Treating


Elphie Books Book Three
Author – Hagit R. Oron
Illustrator – Or Oron
Publisher – Orons
Page – 18
Release Date – 10th October 2016
Format – ebook, paperback, hardcover
Reviewer – Stacey
I received a free copy of this book
Post Contains Affiliate Links

Elphie is easily frightened. Phante is brave.
Phante is hot-tempered. Elphie is calm and kind.
When they go trick or treating together, Elphie and Phante use their strengths to empower each other.
This Halloween story emphasizes good values like kindness and courage and makes them a superpower. Read the book and teach your kids that the sweetness of friendship lasts longer than that of a sugar-coated candy.
Elphie wants to dress as a tiger-elephant, but he's also scared from the image he sees in the mirror.
Phante doesn't care. She just wants to go trick or treating before all the good candies are gone.
But then Elphie gets all the special treats and Phante is upset.
Fortunately, Elphie has a superpower that makes everything OK. Phante has a superpower too. Read the book and find out how she helps Elphie overcome his fears.

In the third Elphie book by Hagit R. Oron, Elphie is getting ready to celebrate Halloween with his friend Phante. Elphie really wants to go as a Tiger-Elephant, but every time he see's himself he gets scared, so his mum comes up with a wonderful idea for a new costume.
In his new costume, Elphie and Pirate Phante set out, going door to door, but Phante gets angry with Elphie when his new costume is getting him all the sweets.
Together, the two little elephants learn that friendship is about helping one another, not getting angry or leaving someone to feel scared.
I have read all three Elphie books, and I just adore the little elephant. Throughout the series, he has been learning a lot about the outside world, friends and himself.
Elphie is such a cutie, and kids will take him into their hearts and keep him there. The book is vividly coloured, stands out, and is pleasing on the eye which will draw kids to it.
The characters all have unique qualities and don't over-power one another, and I feel as the series is progressing, the Elphie books just keep on getting better and better, and pre-schoolers will love this series.
Book reviewed by Stacey
Purchase Links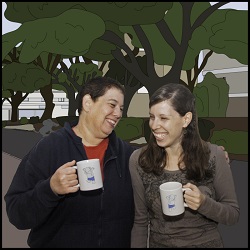 Hagit R & Or Oron are a mother and daughter who love to create, imagine, laugh and have fun together.
Hagit R is an electronics engineer. She writes computer code by day, but when she takes off her suit she lets her imagination run wild. Really, it takes her to such weird places, words aren't able to describe.
Or is a graphic designer by day and an illustrator by night. Imagination is the biggest tool in her toolbox. Really, it's as big as a continent.
Together they are an undefeatable team. Their mission is to bring joy and happiness to kids and parents all around the world. How? One picture book at a time.
Author Links