Moore Zombies: Halloween by Wendy Knuth – Book Review
Moore Zombies: Halloween by Wendy Knuth – Book Review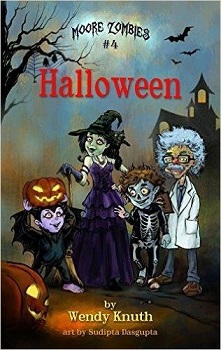 Moore Zombies: Halloween
Author – Wendy Knuth
Publisher – CreateSpace
Pages – 86
Release Date – 29th September 2016
ISBN-13 – 978-1537684338
Format – ebook, paperback
Reviewer – Stacey
I received a free copy of this book
Post Contains Affiliate Links

Chapter Book #4 Gothina, Broheimer, Kamper, and Baby Zom start the creepiest day of the year by doing typical human things such as carving pumpkins and eating pumpkin seeds, but with a zombie twist.
Mombie hands out ketchup packets to trick-or-treaters which causes some confusion. Was that meant to be a trick or a treat? Many strange occurrences follow when the zombies go to a Halloween celebration.
A palm reading by Miss Fortune predicts doom in the future, and she seems to know a little too much. Later, the zombies arrive home to find smashed pumpkins everywhere, and the back yard has become haunted. But really, what is Halloween without a good scare? Maybe you can you have a trick and a treat. . .

Zombies Kamper, Brocheimer and Gothina are getting ready to celebrate Halloween the human way, by carving their pumpkins and getting dressed up.
With their scariest outfits on, the Zombies head out to celebrate with the humans. Whilst out, an encounter with Miss Fortune has Kamper running scared, especially when she tells him "You can't run from fate".
Once back home, the zombie's learn just how frightening Halloween can really be, or is someone actually trying to scare them?
This is the first Moore Zombie's book that I have read, and I must say the Zombie siblings are full of fun and mischief. Gothina, the only female, is exceptionally clever. She teaches her brothers about the history of Halloween and what 'Day of the Dead' and 'The Witching Hour' mean, and how they came about.
The book will have kids thoroughly entertained and gripped to the pages, whilst at the same time learning all about the pagan festival, and what would Halloween be without some scary moments.
It doesn't contain any truly scary moments though, so you don't need to worry about your children (or yourself!!) being scared and having nightmares.
Moore Zombies is a frighteningly good book that is just perfect for this time of year.
Book reviewed by Stacey
Purchase Links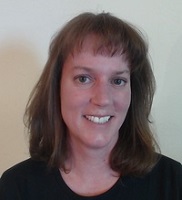 Wendy Knuth thought that zombies were getting a bad rap. What's more likely, a human apocalypse or a zombie apocalypse? Well, now there is a kinder, gentler zombie family. These zombies don't like blood, but they love tomato juice! Thanks to Wendy, now you can see things from the zombie's perspective.
After playing video games with her children, Wendy Knuth was inspired to write books about zombies for kids. She hopes that humans of every age will enjoy reading these books as much as she loves writing them. Wendy is happily married to an old, bald guy, and they live in Arizona, where they continue to raise their two zoners.
Author Links