#Goldilocks by Jeanne Willis – Book Review
#Goldilocks by Jeanne Willis – Book Review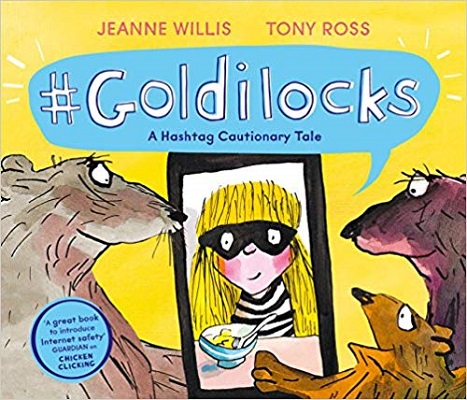 #Goldilocks
Online Safety Picture Books
Author – Jeanne Willis
Illustrator – Tony Ross
Publisher – Andersen Press
Pages – 32
Released – 6th February 2020
ISBN-13 – 978-1783448784
Format – ebook, paperback, hardcover
Review by – Stacey
Rating – 3.5 Stars
I received a free copy of this book.
This post contains affiliate links.


Everyone loves Goldilocks' hilarious online videos, but in her quest to get more likes, more laughs and more hits, she tries something a little more daring: stealing porridge #pipinghot, breaking chairs #fun, and using someone else's bed #sleep. What will Daddy Bear do when he sees that online?
A hilarious cautionary tale for a new generation of internet-users from the prize-winning partnership of Jeanne Willis and Tony Ross, the third of its kind following Chicken Clicking and Troll Stinks.

#Goldilocks is a cautionary tale about a young girl craving attention online. The book is told in a friendly rhyming style and features a young Goldilocks first trying to impress people with her selfies, then by capturing funny moments and sharing them with her followers. Eventually, she feels that she needs to up her game and enters the woods where she finds a cottage in which three bears live.
Any book that teaches children to be cautious online is a good idea and should be used to educate children about how not to use social media and how it can all go wrong very quickly.
I am a little unsure whether having the story told in a picture book is actually aiming for the right audience as my understanding is that picture books tend to be read more by children in the 3-6-year-old range and I don't believe this book is aimed at children so young. I do know that social media channels have a minimum age of 13 for their users – Yes, I know younger children are using them, I'm just not convinced many kids younger than 6 will be.
The illustrations are amusing and do capture the plot perfectly, plus I like all the images including Goldilocks's mobile phone and the posts she is putting online as this gives the reader more of an understanding of what kind of pictures she is posting.
I'm also not comfortable with what happened to Goldilocks when it was discovered she had broken into the bear's cottage, ate their food, broke their furniture and took amusing photos of herself committing a crime. I don't think the punishment would be enough to deter a child from thinking that what she did was good for capturing pictures to show to her followers. I was shocked that the book ends quite abruptly too, I feel that the story still had more to tell and educate.
Overall, the book is fun, it involves a classic tale that most children will know and uses it to inform children of how not to use social media.
Book Reviewer – Stacey
---
Purchase online from:
---
About the Author

Jeanne Willis was born in St Albans and trained as an advertising copywriter at Watford College. She worked for various agencies creating press adverts and TV, cinema and radio commercials. She is now a full-time writer and has published over 80 books.
Her hobbies include gardening, reading (non-fiction), natural history and collecting caterpillars. Jeanne has also worked on scripts for TV, including POLLY POCKET and THE SLOW NORRIS, and a pilot TV series for DR XARGLE. She lives in North London with her husband and two children.


---
What did you think of #Goldilocks? Share your thoughts in the comment section below!
---
The above links are affiliate links. I receive a very small percentage from each item you purchase via these link, which is at no extra cost to you. If you are thinking about purchasing the book, please think about using one of the links. All money received goes back into the blog and helps to keep it running. Thank you.