Milly's Marvellous Mistakes by Peta Rainford – Book Review
Milly's Marvellous Mistakes by Peta Rainford – Book Review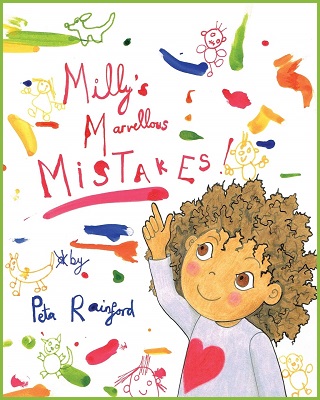 Milly's Marvellous Mistakes
Author – Peta Rainford
Publisher – Dogpigeon Books
Pages – 34
Released – 20th February 2020
ISBN-13 – 978-0995646537
Format – psperback
Review by – Ellwyn
Rating – 4 Stars
I received a free copy of this book.
This post contains affiliate links.


Milly's Marvellous Mistakes is a funny, rhyming picture book for the X-factor generation of children brought up to expect overnight success and instant gratification!
Our hero, Milly May, more than anything, wants to paint beautiful pictures. But she always ends up with blots and smudges. She really WISHES she was a better artist, and then – hey presto! – her fairy godmother appears (looking a little bit like the artist Frida Khalo!) and grants her wish.
Milly is soon turning out paintings in the style of famous artists, including: Van Gogh and Da Vinci! There are lots of great visual jokes in this beautifully illustrated and colourful book.
But Milly soon discovers that success that comes too easily may not be worth having – especially if it means losing friends.

Milly May is frustrated. Milly wishes she could draw nice pictures but struggles to sketch a nice straight line. She refuses to put in the practice needed to achieve her aspirations; she simply wants the ability to appear. Then, one day Milly's fairy godmother arrives and grants her one of three wishes. Abra Cadabra! Milly is an artist!
At first, Milly is delighted with the results. Her work rivals some of the greats like Vincent Van Gogh and Leonardo da Vinci but there's a cost. Everyone admires her work and begs her for suggestions on how to improve. In a moment of exasperation, she makes a hasty wish that everyone leaves her alone, and her wish is granted.
Shortly after, Milly begins to wonder, is instant success as worthwhile as putting in the effort to learn something herself, especially since its cost her all her friends?
Milly's Marvellous Mistakes is a fun, rhyming tale that teaches the value and intrinsic rewards of hard work. Rainford's illustrations are perky, authentic and add a bit of fun to a life lesson all children must learn.
Book Reviewer – Ellwyn
---
Purchase online from:
---
About the Author

Peta grew up on the Isle of Wight so long ago she can remember dancing to the Bay City Rollers, Saturday mornings watching Multi-coloured Swap Shop and buying crisps from the school tuck shop for 2½p.
As a child she loved words and was always reading. She loved painting and drawing too, but she had no idea what she wanted to do when she grew up.
She studied English at York University and then worked in London as a business journalist and editor for 14 years. In her spare time she went to art classes and even studied fine art at St Martins, but she still had no idea what she wanted to do when she grew up.
She had a go at running a small hotel with her husband in wild and windy (but beautiful) Exmoor and it went quite well, but after a few years they needed a sit down. So they sold up and moved back to the Isle of Wight.
It was here that Peta, now balancing the roles of freelance writer and mum, decided to write and illustrate her first book for children. It was a revelation to her: a way of combining picture making (colouring in) with her love of words (silly stories) – not to mention an outlet for her awful jokes.
It may have taken more than four decades, but finally, Peta knows what she wants to do when she grows up.




---
What did you think of Milly's Marvellous Mistakes? Share your thoughts in the comment section below!
---
The above links are affiliate links. I receive a very small percentage from each item you purchase via these link, which is at no extra cost to you. If you are thinking about purchasing the book, please think about using one of the links. All money received goes back into the blog and helps to keep it running. Thank you.
Like us on Facebook – Tweet us on Twitter – Pin us on Pinterest