Bala-Gala the Brave and Dangerous by Gita V.Reddy – Book Review
Bala-Gala the Brave and Dangerous by Gita V.Reddy – Book Review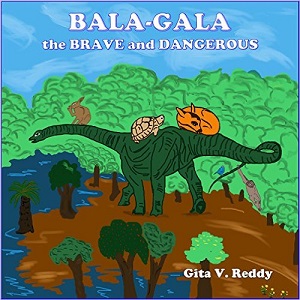 Bala-Gala the Brave and Dangerous
Author – Gita V.Reddy
Pages – 24
Release Date – 7th August 2015
Format – ebook
Reviewer – Stacey
I received a free copy of this book
Post Contains Affiliate Links

Bala-Gala the Brave and Dangerous is a bed time story for kids, and also a first-read for early readers.
Bala-Gala lives in the forest of Gamba-Bamba, and must save himself from the crocodile, Brammy-Gommy, who lives in the River Kanga.
But who is Bala-Gala? Is he is deer, a tiger, a dinosaur, or a dragon? The answer will delight kids, as will the story.
This is a tale to tickle the imagination of every child.

'Bala-Gala the Brave and Dangerous' is a colourful, engaging story that will have young children's imaginations running wild.
Bala-Gala is a deer, well at the start he is. Throughout the book, Bala-Gala changes from one animal to the next. The changes start when he meets a crocodile who wants to eat him for his lunch. To protect himself, Bala-Gala changes into a big tiger, thus the start of many changes throughout the book.
When Bala-Gala changes into a new animal, we are told why he chose that animal, there is always a good reason for it, which is Mainly to protect himself.
The book is fluidly written and will keep the children entertained and curious from beginning to end.
With the book not being many pages long, younger children won't have the time to lose interest in the plot either.
Gita has certainly used her imagination to write a beautiful children's story. The little twist at the end, which I didn't see coming, made the book more enjoyable.
Book Reviewed by Stacey
Purchase Links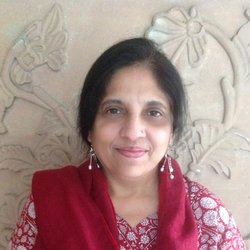 Gita V.Reddy is a writer of fiction for children and adults. She enjoys thinking up tales of different genres. She has written mysteries, adventure, fantasy, science fiction, and even an animal tale for children.
Ms Reddy was born in India, is a post graduate in Mathematics, worked in a bank for twenty-six years, is married to a physics professor, has a son doing research in neuro-electronics, and loves literature. Yes, her life is as mixed up as the multiple genres she writes.
She enjoys painting and spending time with her family, and LOVES walking in the rain.
Author Links