The Transfer by Kathryn Ford – Book Review
The Transfer by Kathryn Ford – Book Review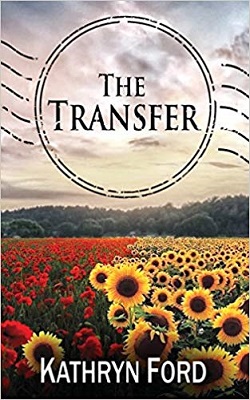 The Transfer
Author – Kathryn Ford
Pages – 220
Released – 8th December 2019
ISBN-13 – 978-1672674072
Format – ebook, paperback
Review by – Linda
Rating – 4 Stars
I received a free copy of this book.
This post contains affiliate links.


Follow Ashlyn Cooper as her final year of high-school turns from ordinary to complicated. All it takes is one look from the new boy. Enter Jamie Russle, tall dark and pretty damn cute. He completely turns Ashlyn's neat little world upside down and drags his best friend, Craig Morgan, into the thick of things.
Watch as Ashlyn's life unfolds and takes a direction she never would have dreamed of.

The Transfer is a delightful, easy read book. It is the story of female Ashlyn Cooper who is eighteen-years-old. Ashlyn is in her last year at high school, her life is very ordinary until one day new pupil, Jamie Russell, is transferred to her class from a school in Cape Town. Things are never quite the same again!
I enjoyed this book. It was so easy to pick up and read, and the perfect book to sit and relax on the sofa with. Ashlyn Cooper's character is an everyday eighteen-year-old. She is studying hard but enjoys spending time with her friends, taking part in sporting activities, and horse riding. Craig Morgan whom Ashlyn has always known but very often just says hello in passing is steady and reliable and then we have Jamie Russell who's character is lively and full of fun.
The book kept me interested all the way through and I enjoyed seeing how the three main character's lives played out. My heart did go out to Ashlyn's best friend Pria too.
A bonus of this book is that it is set in South Africa so I found the different lifestyles very interesting. It was a good page-turner and many times when I was reading I found myself smiling. There were also a few dramas so a well-balanced book.
I certainly enjoyed this book and would definitely recommend it especially for young adults who I feel would certainly love it. Well done to author Kathryn Ford for such a good read.
Book Reviewer – Linda
---
Purchase online from:
---
About the Author

Kathryn Ford has been writing from a young age. Even if it was just about ponies having a picnic or a girl picking up a stray kitten. She has always loved reading and writing. By the age of eleven she had read all the Braille books in the school library and had to join the National Library for the Blind. She read anything she could, but was always drawn to epic fantasy. The ability to get lost in a magical world really appealed to her.
At the end of her matric year, she was awarded as the highest achieving disability student in the country. She then went to the University of the Free State to study English Literature, French and History. In 2010 she graduated with a B.A. honours degree. After graduating she worked as a researcher, during which time Kathryn attempted to right a number of novels. However non of of these initial attempts made it to completion.
At this stage her Bipolar was really upsetting her life. She was unable to get out of bed some days and other days the mania would wreak havoc on her life. She spent two stints in hospital, one in 2016 and one in 2019. After she was released from hospital in February of 2019 it was as though she were a new person. One day she picked up her laptop and began to write and she didn't stop until her first novel was complete.
The Transfer was far from being an epic fantasy book, but the warm young adult romance really appealed to her. Many of the scenarios in The Transfer actually took place during her own high-school years. She is now working on two more books, an adult romance and an urban fantasy.
Kathryn has been riding horses since the age of eleven and would love to own her own horse one day. She loves cats and shares her life with four of them as well as her husband. She is addicted to coffee and loves chocolate and jelly teddy bears.




---
What did you think of The Transfer? Share your thoughts in the comment section below!
---
The above links are affiliate links. I receive a very small percentage from each item you purchase via these link, which is at no extra cost to you. If you are thinking about purchasing the book, please think about using one of the links. All money received goes back into the blog and helps to keep it running. Thank you.
Like us on Facebook – Tweet us on Twitter – Pin us on Pinterest