Fight for the Blue Planet by Derek Corney – Book Review
Fight for the Blue Planet by Derek Corney – Book Review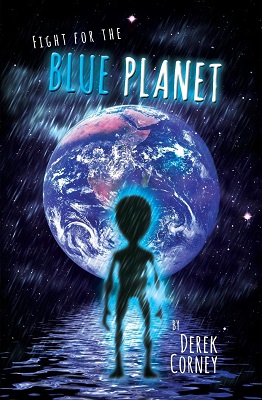 Fight for the Blue Planet
Author – Derek Corney
Publisher – UK Book Publishing
Pages – 204
Released – 14th March 2019
ISBN-13 – 978-1912183869
Format – ebook, paperback
Review by – Stacey
Rating – 3.5 Stars
I received a free copy of this book.
This post contains affiliate links.


Three children go on a quest to save the world from invasion by the Targ, a warlike people from another galaxy, intent on plundering the Earth for its resources. With help from a friendly alien called Shack-Shack they set off on an adventure that will take them across the far reaches of the galaxy on a mission to save their planet from destruction.

Siblings Timmy, Adam, and Salma are sat watching the lightning outside the window one night when a strange green glow appears and takes shape. An alien calling himself Shack-Shack tells the children he needs their help.
Planet Earth and his planet are going to be invaded by the Tarq as they both have the resources the Tarq needs. He tells them that his people are none violent folk and so they can't stand up to the Tarq but they have the scientific ability to give the children special powers so that they can defeat the evil beings.
The children are each given one ability, including shape-shifting, transportation, and invisibility. But can they help save Shack-Shack's planet and help keep Earth safe too?
Fight for the Blue Planet is a middle-grade sci-fi book. The three siblings are certainly likeable and confident enough to use their special powers and help save the planets. I was a little disappointed with their special powers as I would have liked them to have something unique or not often seen in other stories. Especially as the invisibility power is called 'The Cloak of Invisibility', something straight out of Harry Potter.
The plot moves along at a steady pace and there is plenty of action for children to sink their teeth into and enjoy. There were an odd few words which I thought children might not understand, but on the whole, the writing was aimed at them. Sometimes sci-fi plots are overly complicated or use too much scientific language but I was glad to see that this neither of these occurred and that even an early reader would be able to follow and understand what was happening.
Overall, if you have a child who enjoys books that are out of this world and feature child hero's then this would be a good purchase to keep them entertained.
Book Reviewer – Stacey
---
Purchase online from:
---
About the Author

Derek Corney was born in London but brought up in Hartlepool. One of four brothers he enjoyed reading from an early age. The notion of writing didn't occur to him until much later whilst travelling the world, working as an oilfield engineer.
Visiting and working in places such as North and South America, the Middle and Far East, Pakistan and India gave him the opportunity to observe how man is exploiting the Earth's natural resources and was a great incentive when writing his novel. The idea of wrapping it up in a children's novel came from his children and their concern for the environment.



---
What did you think of Fight for the Blue Planet? Share your thoughts in the comment section below!
---
The above links are affiliate links. I receive a very small percentage from each item you purchase via these link, which is at no extra cost to you. If you are thinking about purchasing the book, please think about using one of the links. All money received goes back into the blog and helps to keep it running. Thank you.
Like us on Facebook – Tweet us on Twitter – Pin us on Pinterest