The Forgettery by Rachel Ip – Book Review
The Forgettery by Rachel Ip – Book Review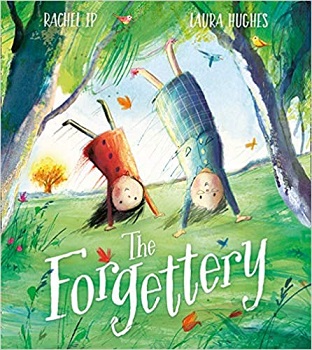 The Forgettery
Author – Rachel Ip
Illustrator – Laura Hughes
Publisher – Farshore
Pages – 32
Released – 18th March 2021
ISBN-13 – 978-1405294768
Format – paperback
Rating – 5 Stars
I received a free copy of this book.
This post contains affiliate links.


Synopsis
Amelia's granny forgets lots of things. Little things, like where she put her glasses, and big things like people and places. But everything anyone has ever forgotten is stored in The Forgettery, and there Amelia and her granny learn the power of making memories.
Filled with warmth and gentle humour, The Forgettery is a beautifully written, sensitive look at dementia and memory loss. Over 850,000 people live with dementia in the UK, which will soar to 2 million by 2051. Globally, around 50 million people live with dementia, with nearly 10 million new cases each year. Opening up discussions surrounding this challenging topic with little ones has never been more important.
Without ever explicitly mentioning dementia, The Forgettery can be enjoyed as an adventure story where children explore a fantastical world where memories can be re-discovered and revisited as well as newly made. Rachel Ip's tender words capture the wonderful bond between grandmother and granddaughter and Laura Hughes conjures up an exciting, wonderous space where our most precious memories are stored, and the challenge of dementia can be gently explored and understood.
The Forgettery is an incredibly beautiful and poignant book about dementia that covers the subject without actually using the word and is perfect for young children to learn and understand about the disease without it coming across all scarily and complicated.
Little Amelia and her Granny were out walking when they come across 'The Forgettery' a place where everyone's forgotten memories are stored. The keeper showed them to where Granny's forgotten memories were stored and there were a lot of them. Amelia has a forgotten memory store of her own too.
Amelia knew that her Granny was forgetting more and more these days so The Forgettery gave her an idea on how to help her Granny remember.
The book is both beautiful and heartwarming. It is so adorable, especially the way author Rachel Ip has written about such a hard subject, and yet she has managed to put it into simple terms for children to understand and appreciate what may be happening to someone they know.
The illustrations are outstanding and complement the story completely. They not only bring Rachel Ip's words to life, but they invite you into Amelia and Granny's life and take you on a journey with them.
This is one of the most special children's books that I have read. It is an exceptionally powerful story, focussing on something most people don't like to talk about, and yet in a world where 850,000 people live with dementia, it is something that should be spoken about and not brushed under the carpet or hidden away. This book gives young children the chance to learn, understand, and appreciate what may be happening to someone they know.
Purchase Online From:
---
What did you think of 'The Forgettery'? Share your thoughts in the comment section below!
---
The above links are affiliate links. I receive a very small percentage from each item you purchase via these link, which is at no extra cost to you. If you are thinking about purchasing the book, please think about using one of the links. All money received goes back into the blog and helps to keep it running. Thank you.
Like us on Facebook – Tweet us on Twitter – Pin us on Pinterest – Join us on Instagram