The Cutest Puppy in the Galaxy by Neil Roy McFarlane – Book Review
The Cutest Puppy in the Galaxy by Neil Roy McFarlane – Book Review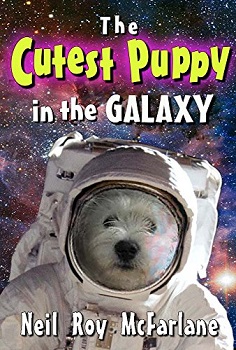 The Cutest Puppy in the Galaxy
Author – Neil Roy McFarlane
Pages – 83
Release Date – 7th January 2015
Format – ebook
Reviewer – Stacey
I received a free copy of this book
Contains Affiliate Links

A space-puppy adventure lavishly illustrated with over seventy full-colour pictures.
Nanoo has got a really good spaceship; Catkins the kitten doesn't like cheese; the televisions are fighting … which is all very well, but will Nanoo convince the Shark Queen and the Crocodile King that what unites them is greater than what divides them?

Nanoodle Apollonius Bartholomew Snagglebottom, or Nanoo for short, is an alien, that looks like a puppy, from the planet Bostik Seven.
One day his parents bought him a spaceship, so he set off to explore the galaxy, promising not to go too far.
Firstly, he came across a piece of cheese, but it wasn't just any cheese, it was a whole planet made of cheese. On this strange planet he met a lost cat called Catkins. All Catkins wanted to do was get home to her planet, 'Planet of the Cats', but she had become stranded when her spaceship broke.
Nanoo offered to help get her home, however, while they were trying to find her home planet, they came across lots of others that they decided to explore first.
The Cutest Puppy in the Galaxy, is a fun, very imaginative book. I was reading it thinking, how wonderful that some peoples brains work to think up a story like this one.
I love that the book is full of vibrant, lively images, which adorn every page. The images are a mixture of both illustrations and photographs. Nanoo and his friend Catkins are also very adorable, and photogenic.
The book is exceptionally funny, and truly magical. It will certainly capture children's imaginations and have them enjoying every minute of it. Some maybe very surprised by the twist at the end.
I think that this book would work just as well as a paperback, as children still prefer them over ebooks. It would also make a great interactive book too.
Book Reviewed by Stacey
Purchase Links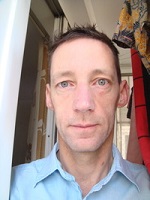 Neil Roy McFarlane is from the UK. He lived in Asia for over ten years and speaks passable Chinese. He writes in his spare time.
Author Links