What's Next? by Timothy Knapman – Book Review
What's Next? by Timothy Knapman – Book Review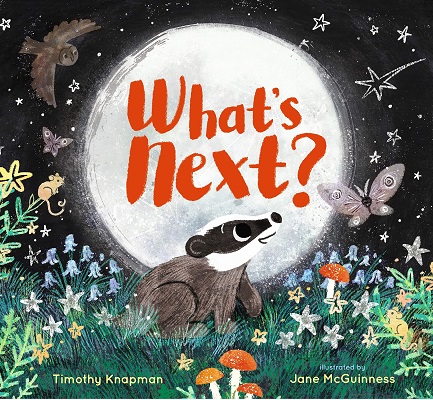 What's Next?
Author – Timothy Knapman
Illustrator – Jane McGuinness
Publisher – Walker Books
Pages – 32
Released – 5th March 2020
ISBN-13 – 978-1406390841
Format – ebook, paperback
Review by – Stacey
Rating – 4 Stars
I received a free copy of this book.
This post contains affiliate links.


A sweet, suspenseful story of a baby badger and his dad with rich, atmospheric illustrations from Jane McGuinness.
Curious Baby Badger loves exploring. He is eager to see, and know, more of the world beyond his den. So, one night, his daddy takes him on a moonlit adventure through the still, black-and-white forest up above their underground home. And that sets Baby Badger's imagination soaring. What's daytime like? he wonders. What's next?
A tender father and son story of adventure, discovery and the comforting pull of home, paired with rich, evocative illustrations from Jane McGuinness.

As night falls Baby Badger and his daddy come up from their sett and daddy teaches baby about things to see, what he can eat, and where the moss is to roll in. Each time daddy shows baby something, baby wants to know 'What's Next?'. As the sun is coming up the pair head back to their sett but baby still wants to know 'What's Next?', daytime says his daddy.
Baby is curious and can't sleep so he heads out on his own into the morning light to see what daytime is like but once he has wandered away and seen how green the place looks and what the other animals look like he doesn't know how to get home.
What's Next? is a beautiful book following a curious little badger as he learns about the world he lives in and always wants to know more. He is so curious that he is willing to go out in the daylight to see what that is like too.
The full-page illustrations are divine and I love how dark they are at the beginning and how bright and colourful they are later on in the book. Baby badger is so adorable and is just like a child when they ask 'why' all the time.
This is a wonderful, sweet book that shows the beautiful relationship between a father and son as well as how inquisitive a little one can be.
Book Reviewer – Stacey
---
Purchase online from:
---
About the Author

Tim Knapman writes plays, musicals, songs and children's books and has been published by Simon & Schuster, Puffin, Macmillan, Scholastic, Hachette, Egmont UK and many more. His previous books include the bestselling Dinosaurs in the Supermarket, Dinosaurs Don't Have Bedtimes and Superhero Dad.
His books have been translated into 20 languages and several have been read on CBeebies bedtime stories. Tim has done more than 100 events and readings in schools, colleges, bookshops, fairs, libraries and festivals.
He lives in Sussex and his hobbies include swashbuckling.




---
What did you think of What's Next? Share your thoughts in the comment section below!
---
The above links are affiliate links. I receive a very small percentage from each item you purchase via these link, which is at no extra cost to you. If you are thinking about purchasing the book, please think about using one of the links. All money received goes back into the blog and helps to keep it running. Thank you.
Like us on Facebook – Tweet us on Twitter – Pin us on Pinterest