Bunnies on the Bus by Philip Ardagh – Book Review
Bunnies on the Bus by Philip Ardagh – Book Review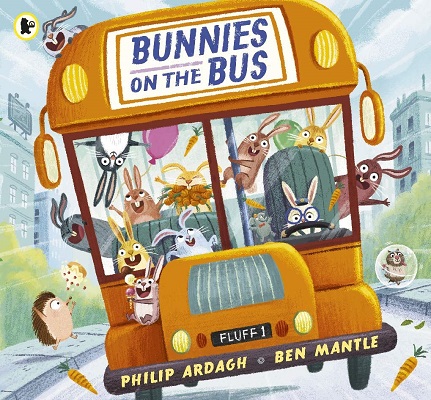 Bunnies on the Bus
Author – Philip Ardagh
Illustrator – Ben Mantle
Publisher – Walker Books
Pages – 32
Released – 5th March 2020
ISBN-13 – 978-1406394016
Format – ebook, paperback
Review by – Stacey
Rating – 4 Stars
I received a free copy of this book.
This post contains affiliate links.


Watch out! Move out of the way! Hold onto your tails! There are … BUNNIES ON THE BUS! And they aren't stopping for ANYONE!
The bunnies have taken over the bus and they're on a wild ride across the streets of Sunnytown! They whizz past the bus stop, swerve around corners and zoom over crossings on a non-stop roller coaster adventure! There are bunnies on the roof! Bunnies in the aisle! DO sit down, bunnies, or you'll end up in a pile! Eventually, they come to a stop … at the train station. And what's that they've spotted? A TRAIN! Uh-oh, here we go again…
A hilarious romp of a book, with a fantastic read-aloud rhyming text and spectacular illustrations.

Bunnies on the Bus is a laugh-out-loud young children's book which as you might have guessed is about bunnies on a bus. The bunnies are travelling on a bus driven by what I can only say is a manic rabbit. He swerves around corners on two wheels, drives exceptionally fast, and even flies over bumps in the road.
The bunnies all seem to be enjoying themselves, the other animals on the street not so much as the bus won't stop for them or they have to move out of its way.
The wording is quite minimal and the first two phrases are repeated. This will help new readers to read. It also rhymes and I know kids love a rhyming book.
The illustrations are so much fun. There is a lot to see in each picture and plenty to laugh at.
I can see this book being a big hit and I will predict children will want to read it over and over again.
Book Reviewer – Stacey
---
Purchase online from:
---
About the Author

Roald Dahl Funny Prize-winning author Philip Ardagh is the author of The Grunts and National Trust: The Secret Diary series. He is probably best known for his Grubtown Tales, but he is author of over 100 books.
He is a "regular irregular" reviewer of children's books for The Guardian, and is currently developing a series for television. Philip Ardagh is two metres tall with a ridiculously big, bushy beard and size sixteen feet, making him an instantly recognisable figure at literary festivals around the world.



---
What did you think of Bunnies on the Bus? Share your thoughts in the comment section below!
---
The above links are affiliate links. I receive a very small percentage from each item you purchase via these link, which is at no extra cost to you. If you are thinking about purchasing the book, please think about using one of the links. All money received goes back into the blog and helps to keep it running. Thank you.
Like us on Facebook – Tweet us on Twitter – Pin us on Pinterest