The Diary of Isabella M Smugge by Ruth Leigh – Book Review
The Diary of Isabella M Smugge by Ruth Leigh – Book Review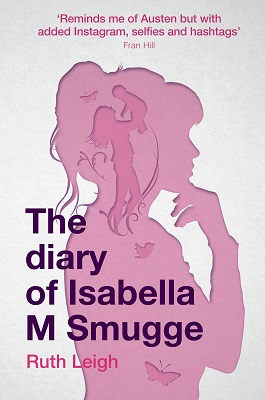 The Diary of Isabella M Smugge
Author – Ruth Leigh
Publisher – Instant Apostle
Pages – 256
Released – 19th February 2021
ISBN-13 – 978-1912726400
Format – ebook, paperback
Rating – 4.5 Stars
I received a free copy of this book.
This post contains affiliate links.


Synopsis
Meet Isabella Smugge – as in 'Br-uge-s', naturally! Instagram influencer, consummate show-off and endearingly self-unaware. With a palatial home, charming husband and three well-mannered children, she is living the Country Life dream.
Newly arrived in the country, Isabella is ready to bring a dash of London glamour to the school gate and gain a whole new set of followers – though getting past the instant coffee, terrible hair and own-brand sausage rolls may be a challenge!
But as her Latvian au pair's behaviour becomes increasingly bizarre and a national gossip columnist nurses a grudge, Isabella finds herself in need of true friends and begins to wonder if her life really is as picture-perfect as she thought…
'The Diary of Isabella M Smugge' is the debut novel from UK-based author Ruth Leigh. Isabella, of the title, is an internet influencer. Her materialistic life revolves around her desire to stay relevant in the global world of social media in which she competes. She unashamedly uses her family and sees every aspect of their day-to-day routine as an opportunity to further her brand. On the face of it, she has everything; a fabulous home, a loving (hedge fund manager) husband, three perfect children and a nanny to take care of the minutiae she has no time for. Can anyone's life be so seemingly idyllic, yet so utterly false? She believes herself relatable yet actually is so removed from real life that she is almost a caricature.
The author has cleverly captured the reader in an instant by having Isabella flippantly assert; 'I expect you've heard of me.' Her self-important bubble is soon tested at the school gates by the other mums and she finds it harder to fit in than she anticipated.
The first part of the story relies heavily on ironic humour, satire and sarcasm, to embed Issy into our lives. The author uses actual social media platform references to add authenticity and throws in the odd reference to people in the public eye. We gradually get some glimpses of her scars from the past and watch as she cynically attempts to exploit those around her to maintain relevance and increase her followers. Her priorities remain skewed as she asserts she would be lost without her wonderful nanny, Sofija, yet flippantly mentions she isn't sure if Sofija comes from Latvia or Lithuania.
Inevitably things don't run smoothly and Issy has to face some very uncomfortable truths about herself and her situation. Soon the cracks begin to appear and the reader is treated to some subtle foreshadowing as Issy's life starts to unravel…
Although it is written in the first person in both present and past tenses, Issy often refers to herself in the third person. Ruth Leigh covers all bases by throwing in some authorial intrusion which, in the right context, can work well. The chapters are broken up into months of the year which adds to the diary feel. Ms Leigh also shows off an impressive vocabulary with her descriptive passages bringing the main protagonist and her foils to life.
The plot is quite simple and maybe it lacks a little for those who like twists and turns; I confess I was waiting for a shock that never actually came but nonetheless, it's a multi-layered journey of reassessment, self-discovery and slow-awakening faith. Issy starts to redefine her priorities as her life goes from being one big hashtag to one of genuine care and compassion for her new neighbours.
Ruth Leigh displays an excellent understanding of how to make literary devices work for her and writes with a confidence which normally comes only with experience. The way is definitely left open for a sequel and I look forward to reading it. I award four-and-a-half stars.
Purchase Online From:
---
What did you think of 'The Diary of Isabella M Smugge'? Share your thoughts in the comment section below!
---
The above links are affiliate links. I receive a very small percentage from each item you purchase via these link, which is at no extra cost to you. If you are thinking about purchasing the book, please think about using one of the links. All money received goes back into the blog and helps to keep it running. Thank you.
Like us on Facebook – Tweet us on Twitter – Pin us on Pinterest – Join us on Instagram