Megan's Brood by Roy Burdine – Book Review
Megan's Brood by Roy Burdine – Book Review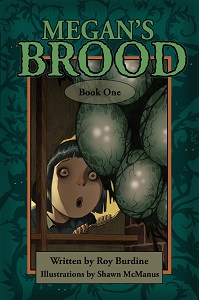 Megan's Brood
Author – Roy Burdine
Illustrator – Shawn McManus
Publisher – We Built It Publishing
Pages – 107
Release Date – 7th July 2015
Format – ebook, paperback
Reviewer – Stacey
I received a free copy of this book

Megan's life is uprooted when her family moves to a new house in a far away town where she discovers a tiny brood of mysterious creatures living in the attic.
As she raises them each begin to manifest unique traits of their own — one that blows fire like a dragon, one who sprouts wings and flies, and a girl with a hypnotic singing voice, are just a few among the group.
The mystery of where these fantastical creatures come from and what their ultimate purpose might be leads Megan down an exciting path to adventure and discovery (and not just a little danger!)

Megan wasn't very happy about moving house. She had to leave her friends behind and didn't know anyone in the town of Summerset Falls. She also didn't like the bedroom that her parents had chosen for her, opting for the attic room instead.
After discovering a crack in the wall in her new bedroom, Megan realised that there was something behind it, something growing in a cocoon like shell. Deciding to see what would come out of it, Megan left it where it was and covered the crack so her parents couldn't see it.
When the cocoon opened, Megan was surprised to discover that growing inside were little creatures, who thought she was their mummy.
What were these creatures and how would Megan ever look after her 'brood'?
Megan is a vibrant, young, unique and quirky girl of roughly 13/14 years old. She is tough and logical beyond her years, and having to look after ten little creatures didn't faze her one bit.
She's was not very happy about having no friends in her new town, that was until she found one with the neighbours stiff, polite, straight-laced son, Casper.
Casper and Megan had fun until Megan crossed the line and got him into trouble, then his mum banned him from seeing her. Alone again, Megan soon made friends with Cutter, who was the polar opposite of Casper, a skateboarder and he played in his own band.
Megan's time though was mainly taken up with looking after her new brood of creatures, who need feeding constantly, love to play and were a little bit mischievous. However not all of them were as lovely and sweet as they first seemed.
The creatures all had their own strength and weaknesses and different abilities. They reminded me of the Gremlins, after they had eaten at midnight.
The book with it's beautiful illustrations, well thought out characters and a plot that kids will love, will keeps kids glued to the pages. It is a mystery, thriller-Esq book for the younger generations. It will take the reader on an adventure, and keep them guessing throughout just what will happen next.
Megan's Brood ends on a cliff hanger, setting the scene ready for book two – Megan and the Old One, which I can't wait to read.
Book Reviewed by Stacey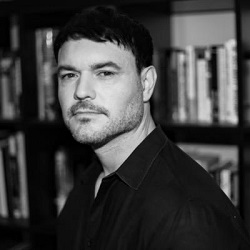 I've been telling stories since I can remember. Even as a child, when I was playing with action figures or the kids in the neighborhood there always had to be a story behind the make-believe adventures.
Fueled on a diet of comic books, cartoons, movies, and novels of every kind, I followed a path of telling stories through art, first as a comic book artist and later in many facets of feature and television animation, eventually directing shows for companies such as Marvel and Dreamworks.
The exciting opportunities emerging in digital publishing have inspired me to pursue my greatest creative dream – writing and publishing my own stories.