The Case of the Defunct Adjunct by Frankie Bow – Book Review
The Case of the Defunct Adjunct by Frankie Bow – Book Review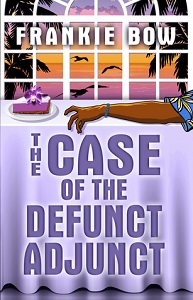 The Case of the Defunct Adjunct
Author – Frankie Bow
Publisher – Hawaiian Heritage Press
Pages – 258
Release Date – 1st December 2015
Format – ebook, paperback, hardcover, audio
Reviewer – Julie
I received a free copy of this book
Post Contains Affiliate Links

A forbidden kiss; a death in plain sight and the faculty meeting's just begun.
When the lecherous Kent Lovely, Mahina State's one-man hostile work environment, collapses face-first into his haupia cheesecake, the faculty retreat goes from dull to disastrous.
Now Professor Molly Barda has to fight to keep an innocent out of prison—and herself off the unemployment line. If you like Dorothy Parker, Sarah Caudwell, P.G. Wodehouse, or E.F. Benson's Mapp and Lucia stories, you'll enjoy this tale of passion, pilferage, and petty politics.

'The Case of the Defunct Adjunct' is a murder mystery set in Hawaii and is a prequel to Frankie Bow's earlier work, 'Musubi' which I haven't read. The tale is told in the first person so the reader sees everything from the perspective of the main character, Molly.
There are a lot of chapter breaks, making it easy to read in short segments. Bow adopts the tried and trusted method of painting her setting and then dropping her players into the action. She has also skilfully used other literary devices such as alliteration, sarcasm, cynicism, irony and humour. I particularly liked the use of a foil that constantly muddles his metaphors, using phrases such as: 'madder than a wet blanket'.
Bow uses her extensive knowledge of university procedure and campus life to her advantage as she develops her story.
It is always difficult to write a prequel as an author inevitably develops a bond with their main protagonist. Arguably, the audience too will feel they know Molly if they've already read 'Musubi'. Possibly as a consequence of this, I found the beginning of the novel lacked depth, with the characters not fully rounded before one of them meets a sticky end. Unfortunately, I hadn't established sufficient empathy with Molly or her supporting cast to be shocked at that stage.
Whilst the pace was consistent, for the first third of the book it seemed the death was rather incidental and not the focus of the story. As the plot unfolded, I found that I warmed to aspects of Molly's character and by the half way stage I was fully engaged.
If you enjoy straightforward murder mysteries with no subliminal messages or undercurrents, then give 'The Case of the Defunct Adjunct' a try. Once it captured my interest, I found much to admire in this tale and would certainly like to read more of Frankie Bow's work. I award 'The Case of the Defunct Adjunct' four stars.
Book Reviewed by Julie
Purchase Links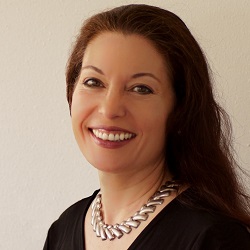 Like Molly Barda, Frankie Bow teaches at a public university. Unlike her protagonist, she is blessed with delightful students, sane colleagues, a loving family, and a perfectly nice office chair. She believes that if life isn't fair, at least it can be entertaining.
In addition to writing murder mysteries, she publishes in scholarly journals under her real name. Her experience with academic publishing has taught her to take nothing personally.