The Dragon of the Month Club by Iain Reading – Book Review
The Dragon of the Month Club by Iain Reading – Book Review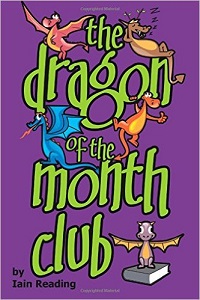 The Dragon of the Month Club
Volume One
Author – Iain Reading
Publisher – CreateSpace
Pages – 236
Release Date – 18th December 2014
Format – ebook, paperback
Reviewer – Sharon
I received a free copy of this book
Post Contains Affiliate Links

The Dragon Of The Month Club is the exciting first installment in a new book series that tells the story of Ayana Fall and Tyler Travers, two best friends who stumble across an extraordinarily magical book and soon find themselves enrolled as members of a very special and exclusive club – The Dragon of the Month Club.
On the thirteenth of every month a new dragon conjuring spell is revealed and the two friends attempt to summon the latest Dragon of the Month. The varieties are almost endless: Air Dragons, Paper Dragons, Fog Dragons, Waterfall Dragons, Rock Dragons, Tree Dragons – not to mention special bonus dragons for all the major holidays, including a particularly prickly Holly Dragon for Christmas.
But one day when a conjuring spell somehow goes wrong Ayana and Tyler find themselves unexpectedly drawn into a fantastical world of adventure based on the various books scattered all across Tyler's messy bedroom. Travelling from one book-inspired world to the next with nothing to rely on but their wits and a cast of strange and exotic dragons at their disposal they must try to somehow find their way home again.
Drawing inspiration from some of literature's most memorable stories – from 19th century German folktales to the streets of Sherlock Holmes's London – the adventures of Ayana and Tyler bring these classic stories to life in delightfully strange and unexpected ways. Filled with fascinating detail and non-stop action these books will spark the imaginations of readers of all ages to inspire a life-long love of reading and seeking out books that are just a little bit off the beaten track.

In the 'The Dragon of the Month club' Ayana and Tyler meet at the back of a library and discover a dusty old book that changes everything. This 'book about books' will certainly appeal to young bookworms but it has enough variety and excitement to engage reluctant readers as well.
The plot is superb and not at all what I anticipated. There were several 'I wasn't expecting that!' moments. It is a real page turner, perfectly paced and packed with vivid descriptions. As you accompany the friends on their journey (with several adorable dragons in tow of course just to make it even more exciting) you really cannot predict what will happen next in the cleverly constructed fantasy worlds.
The dynamics of the boy/girl friendship work well but it was the dragons that really did it for me. I loved them!
My only reservation relates to the age group this would appeal to. I found it difficult to put an age on the main characters and was worried that it fell somewhere between Middle Grade and Young Adult. Having finished the book I think it may appeal to 'tweenies' who are not quite ready for a gritty Young Adult novel but who want something a bit edgier than they are used to.
There is some vocabulary and a few scary scenes that some parents may not feel are suitable for very young children but I fully intend sharing it with my 10 year and I'm sure that she will love it as much as I did. I can't wait for the next one – hope we don't have to wait too long.
Book reviewed by Sharon
Purchase Links

You can read our reviews of Iain Reading's books – Kitty Hawk and the Curse of the Yukon Gold – Kitty Hawk and the Hunt for Hemingway's Ghost and Kitty Hawk and the Icelandic Intrigue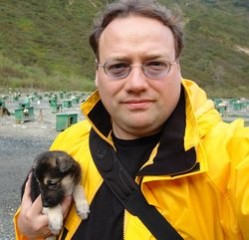 I Like Root Beer. When I was younger I fancied myself a bit of a Root Beer connoisseur, drinking my favourite brand (A&W, of course) from tall, narrow champagne flûtes and revelled in the sound of the ice cubes clinking against the side of the thin glass, creating a magical tinkling ambiance as I looked down my nose at all the other inferior Root Beer vintages.
As I grew older and began to travel all across the globe I was naturally inclined to seek out the very best Root Beers that the world had to offer.
Sadly, as I was to discover, Root Beer is very much a North-American thing and you can't really find it anywhere else in the world. On the bright side, however, it turns out that the world is a pretty great place even without Root Beer.
There are a million amazing things to see and as many more ways for all of us to see them, as our heroine and friend Kitty Hawk finds out in the course of her various adventures.
You can find out more about Iain by reading – 'The Writing Life of: Iain Reading'
Author Links