The Day That Aliens Nearly Ate Our Brains by Tom McLaughlin – Book Review
The Day That Aliens Nearly Ate Our Brains by Tom McLaughlin – Book Review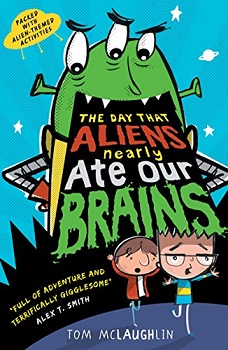 The Day That Aliens Nearly Ate Our Brains
Author – Tom McLaughlin
Publisher – Walker Books
Pages – 176
Released – 4th January 2018
ISBN-13 – 978-1406375794
Format – ebook, paperback, audio
Reviewer – Stacey
Rating – 5 Stars
I received a free copy of this book
Post contains affiliate links
A laugh-a-minute action-packed alien adventure perfect for fans of Pamela Butchart and Frank Cottrell Boyce.
Best friends Freddy and Sal have accidentally intercepted a message from Alan – a spectacularly grumpy, brain-munching alien from outer space. Alan has only one message. Earth is going to be invaded in exactly ten hours' time.
Soon the police, NASA and even Presidents from around the world are getting involved – and Freddy is about to become the most famous kid on planet earth for all the wrong reasons. Wolverhampton, we have a problem.

Whilst trying to use his neighbours TV feed to watch his favourite programme, Wrestlegeddon Smackdown, Freddy accidentally let an alien called Alan, from the planet Twang, know where the Earth was. Alan had been searching for Earth for a long time, as he had seen transmissions of our TV shows and thought that we were all daft, and that the Galaxy would be better off without us.
Alan made his appearance on the tele to tell the world that he was on his way and that he would destroy the world by 10pm, by eating everyone's brains. It was up to Freddy, his friend Sal and a whole host of others, including the President and a Lollipop Lady, to save the world.
The Day That Aliens Nearly Ate Our Brains is perfect for older children. It is stupidly funny. It has lots of laugh-out-loud moments and a most imaginative plot. Alan seems to think that all the people on Earth are just like the characters on TV, and that we all must be really stupid – judging by some TV programmes, I can see why he would think that!
There are black and white illustrations dotted throughout the book that add to the enjoyment, and the overall appearance. The chapters are not numbered, but different hours leading up to the 10pm deadline.
At the back there are activities for children to do, such as a guide on how to draw Alan, tips for invading another planet and a recipe for Lumpy-Bumpy Brain Pudding (nicer than it sounds, think chocolate and rice krispies).
The Day that Aliens Nearly ate our Brains is a brilliant book that is quick to read and I can see kids being engrossed in it, whilst at the same time enjoying every minute.
Reviewed by Stacey
---
Purchase online from:
---
About the Author

I write pictures and doodle words for Bloomsbury, Puffin, Oxford University Press, Simon & Schuster, Scholastic, The Guardian, Disney, Nickelodeon. After leaving art college in '97, I spent nearly 10 years as a political cartoonist for The Western Morning News before going freelance.
I've been published both as a writer and an illustrator for a number of publishers, had my books translated across Europe and South America. Apart from publishing, I've also spent time script writer and a character designer for several animation channels.
I live in Devon, spend most of my days drinking tea and dreaming up new stories.





---