Squeaky Clean by Callum McSorley – Book Review
Squeaky Clean by Callum McSorley – Book Review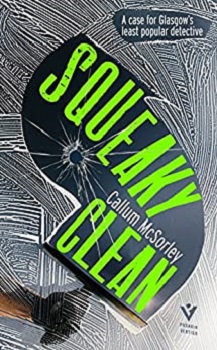 Squeaky Clean
Author – Callum McSorley
Publisher – Pushkin Vertigo
Release Date – 16th February 2023
Pages – 350
ISBN 13 – 978-1782278368
Format – ebook, hardcover, audio
Star Rating – 4.5
I received a free copy of this book.
This post contains affiliate links.

Synopsis
Half the Glasgow polis think DI Alison McCoist is bent. The other half just think she's a fuck-up.
No one thinks very much at all about carwash employee Davey Burnet, until one day he takes the wrong customer's motor for a ride. One kidnapping later, he and the carwash are officially part of Glasgow's criminal underworld, working for a psychopath who enjoys playing games like 'Keep Yer Kneecaps' with any poor bastard who crosses him.
Can Davey escape from the gang's clutches with his kneecaps and life intact? Perhaps this polis Ally McCoist who keeps nosing around the carwash could help. That's if she doesn't get herself killed first.
Squeaky Clean is an amusing criminal thriller – yes there is such a thing. Set in Glasgow, I can't say it was an easy read given that a lot of the text was written in Scottish and I had to decipher what some of the characters were saying to each other. Most I got, but the odd section I had to read a couple of times to understand.
The prologue introduces us to DI Alison McCoist – or Ally McCoist as others amusingly call her, and her investigating a murderer, at his home. It then jumps to DI McCoist being interviewed by her superiors for failures in her investigation.
We then meet gangster Paul (Paulo) McGuinn as he is waiting outside a carwash early on a November morning. Davey, one of the employees at the car wash decides to borrow Paulo's car but things go from bad to worse for him when he is ambushed by people looking for Paulo and the car torched. Now he has to work for Paulo to pay him back. His only help may come in the form of DI McCoist but with so many coppers on Paulo's books, can she be trusted?
Squeaky Clean is everything you would expect in a thriller. It is fast-paced, shocking, brutal, and puts you on edge at times. It is quite slap-stick and amusing too. I was surprised at how well the humour and violence worked together.
Most of the humour came from the character's interactions, and there were a great many of those, the book did feel dialogue heavy, but not in a distracting way but appealingly and freshly. The characters are not nice people but they are great to get to know and spend your time with.
Overall, Callum McSorley has managed to combine two of my favourite genres and I loved this book the whole way through.
---
Purchase Online:
Callum McSorley

Callum McSorley graduated from the University of Strathclyde in 2013 and in 2014 was selected for the Hermann Kesten Writing Scholarship in Nuremberg. Since then, his short stories have appeared in Gutter Magazine, Monstrous Regiment, and New Writing Scotland. Squeaky Clean is his debut novel.
Author Links:
---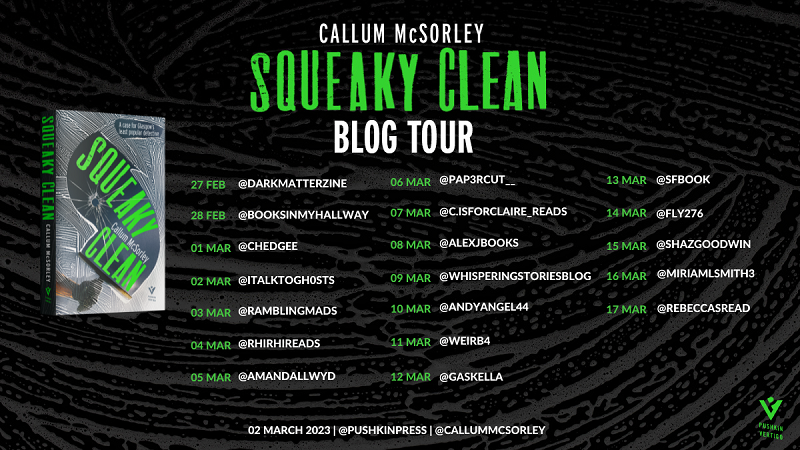 The above links are affiliate links. I receive a very small percentage from each item you purchase via these links, which is at no extra cost to you. If you are thinking about purchasing the book, please think about using one of the links. All money received goes back into the blog and helps to keep it running. Thank you.