Begone the Raggedy Witches by Celine Kiernan – Book Review
Begone the Raggedy Witches by Celine Kiernan – Book Review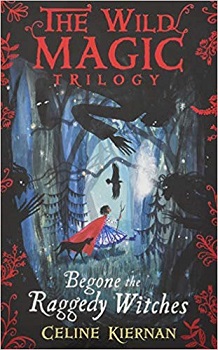 Begone the Raggedy Witches
The Wild Magic Trilogy Book One
Author – Celine Kiernan
Publisher – Walker Books
Pages – 288
Released – 1st February 2018
ISBN-13 – 978-1406366020
Format – ebook, paperback, hardcover, audio
Reviewer – Stacey
Rating – 4 Stars
I received a free copy of this book
Post contains affiliate links.
A middle-grade fantasy adventure perfect for fans of Frances Hardinge, Katherine Rundell and Sally Gardner. On the night that Aunty dies the Raggedy Witches come for Mup's mam. Pale, cold, relentless, they will do anything to coax Mam back to Witches Borough.
When they kidnap Mup's dad, Mup and her mam must leave the mundane world to rescue him. But Mam is strange on this side of the border – striding, powerful, and distant. Even if they can save Dad, Mup is not sure anything will ever be the same again…

Mup's Dad has been taken to Witches Borough, a place which is ruled by her Grandmother who isn't very nice. Her Mam, Stella, was raised by her Aunty and kept away from Witches Borough but now that her Aunty has died (though still there in spirit) the Witches want to take Stella back.
When she resists her husband is taken and it is up to Stella, Mup, Tipper (Mup's baby brother that has been turned into a dog), and the family pet dog Badger to cross the border and rescue Mup's Dad. But danger is lurking around every corner.
Begone the Raggedy Witches is the first book in a planned trilogy. The book is filled with mystery and magic. Mup is a very brave little girl who won't let anyone stand in her way, she is also very caring and gets upset easily when people don't do the right thing.
Mup's Mam Stella is a very mixed up woman. She wants her husband back, she wants to keep her children safe, but she also feels the pull of being able to use magic and is unsure whether she should find her husband and return home or stay in Witches Borough, a place her Aunty has kept her away from since she was a little girl.
Begone the Raggedy Witches is a book that features magic in its raw form, Earth Magic. There are no wands or broomsticks needed, magic comes from within. The whole book is captivating and every scene is vividly described. Celine Kiernan writing is just beautiful and enchanting and I now look forward to reading the next two books in the series and see what Ms. Kiernan has in store for the family and can Witches Borough be brought back to a place of joy rather than sadness.
I would like to make a quick point regarding the line on the back of the book 'Ireland's Answer to JK Rowling' from the Sunday Independent newspaper. I actually think this is very much misleading in terms of the style of writing and the plot, in case people were thinking of picking this book up due to the similarities – There are none. I also think this is a disservice to the author who has her own style of writing and she should be praised for it, not likened to someone else.
Reviewed by Stacey
---
Purchase online from:
---
About the Author

Celine Kiernan is an award-winning author of fantasy novels for young adults, and is represented by Mulcahy Associates, London. Her critically acclaimed work combines fantasy elements with the exploration of political, humanitarian and philosophical themes. She is best known for The Moorehawke Trilogy, a dark, complex trilogy of fantasy YA books set in an alternative renaissance Europe.
First published in Celine's native Ireland in 2008, the trilogy has since been published in 15 different territories, and translated into 10 different languages. In 2009 the first book of the Moorehawke Trilogy, The Poison Throne, won The Readers' Association of Ireland Award for best book; it was included in the White Raven Collection and short listed for the 2009 Irish Book Awards in two categories (Best Newcomer and Best Children's Book senior category). In 2010 it was long-listed for an Australian Silver Inky Award.
Celine's fourth novel, Into the Grey (aka Taken Away) – a YA ghost story set in 1970′s Ireland – won the 2012 CBI Book of the Year (formerly The Bisto award) and the CBI Children's Choice Award. It is the first book to have won both categories. It won the RAI Book of the Year 2013, and has been shortlisted for the Sakura Medal (English High) 2014. In 2013 the Irish Times named it as one of the best children's books of the past 25 years. It was listed An American Library Association (ALA) Best Fiction for Young Adults title 2015.
Born in Dublin, Ireland, 1967, Celine has spent the majority of her working life in the film business, and her career as a classical feature character animator spanned over seventeen years, before she became a full-time writer.



---