Judy Moody by Megan McDonald – Book Review
Judy Moody by Megan McDonald – Book Review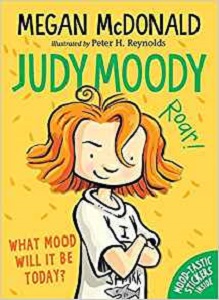 Judy Moody
Author – Megan McDonald
Illustrator – Peter H. Reynolds
Publisher – Walker Books
Pages – 176
Released – 5th April 2018
ISBN-13 – 978-1406380354
Format – ebook, paperback, hardcover, audio
Reviewer – Stacey
Rating – 5 Stars
I received a free copy of this book
Post contains affiliate links.
Another day. Another mood. Meet Judy Moody at her moodiest-best, in this laugh-a-minute first adventure in the international bestselling series.
Bad moods, good moods, even back-to-school moods – Judy has them all! Meet Judy Moody, her little "bother" Stink, her best friend Rocky and her "pest" friend Frank Pearl. Judy has a mood for every occasion, but when a new teacher gives the class a "Me" collage project, Judy has so much fun that she nearly forgets to be moody at all!

Judy Moody is a series of books that have been around for quite a while, there is even a Judy Moody movie that was released in 2011. The books have recently been given a make-over and this is the first in the new-look series.
Judy is a headstrong young girl aged around 8 or 9 years old. It's her first day back at school after the summer break (not sure if that is what it is called in the USA). She is in a bad mood. She doesn't want to go into a new classroom, with a new teacher and have a new desk. She has this feeling that she is going to be made to sit at the front and next to Frank-Eats-Paste-Pearl, both of which come true.
The teacher tells them he wants them to get to know everyone else properly so he's giving them a project to do. They are to make an 'All About Me' collage which will include everything about themselves, from their favourite pet to their hobbies, clubs they belong too and what they want to be when they grow up.
Together with the help of her friend Rocky the two set out on making their collages, but there are plenty of laughs to have along the way, many down to Stink, Judy's little brother.
I have know about the Judy Moody books for years but never read any, nor have I ever bought any for my children – Big mistake – If this first book is anything to go by these books are hilarious and give you a proper laugh-out-loud experience. Judy might be moody but she is also a lot of fun too.
The book is easy to read and contains no long, hard words to figure out. The font is large and clear making this a great book for a child who can read but wants something a little longer – A first taste of reading a novel, although one at just 176 pages.
There are black and white illustrations throughout the book which add to the enjoyment and bring the story to life. There are also Mood-Tastic stickers inside as well as information on the author and illustrator, information about Judy and a vocabulary for her. Plus there is a section that teaches how to make your own 'Me Collage'.
The book is just brilliant and I'm sure young children will enjoy not only this first book but the whole series too.
Reviewed by Stacey
---
Purchase online from:
---
About the Author

"Sometimes I think I am Judy Moody," says Megan McDonald, author of the Judy Moody series, the Stink series, and THE SISTERS CLUB. "I'm certainly moody, like she is. Judy has a strong voice and always speaks up for herself. I like that."
For Megan McDonald, being able to speak up for herself wasn't always easy. She grew up as the youngest of five sisters in Pittsburgh, Pennsylvania. Her father, an ironworker, was known to his coworkers as "Little Johnny the Storyteller." Every evening at dinner the McDonalds would gather to talk and tell stories, but Megan McDonald was barely able to get a word in edgewise. "I'm told I began to stutter," she says, leading her mother to give her a notebook so she could start "writing things down."



---