It's a Bright World to Feel Lost In by Mawson – Book Review
It's a Bright World to Feel Lost In by Mawson – Book Review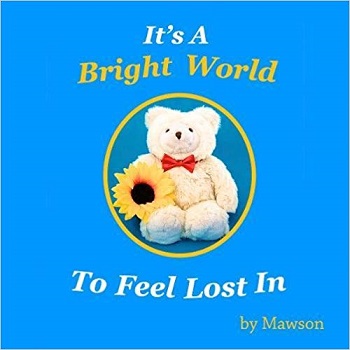 It's a Bright World to Feel Lost In
Author – Mawson
Publisher – Obscura
Pages – 50
Released – 22nd June 2017
ISBN-13 – 978-1922200440
Format – paperback
Reviewer – Stacey
Rating – 4 Stars
I received a free copy of this book
Post contains affiliate links.
Are you feeling a little lost? Got that 'left in the spare room' emptiness about you? Mawson does too.
He sits atop his cushion and ponders about baffling things.
The world is a funny place for a curious teddy bear to live in. Friends approach him about their own dilemmas. They seek instant answers that will make everything all right. Mawson does his best. But after he ponders deeply, most things remain for him just as baffling as they were before.
Take a moment out of your day to pawse with him and explore the world. For the many frazzled readers who feel, secretly, much the same, he offers the comfort that the world is a bright place to be.

When I first started out book blogging some three-and-a-half-years ago I never imagined that I would be reviewing a picture book for adults written by a teddy bear, but hey, here we are.
The book is full of wonderful photographs of the 'author' and his friends, accompanied by words that really speak to you. These are words of comfort so that you can understand that you are never alone in how you are feeling, whether you feel lost in the world or just need a bit of reassurance.
I think the book is very sweet, imaginative and filled with love. When you are feeling down, alone, lost you don't want to be reading some bulky self-help book to give you a pick-me-up, you need something that is short and to the point and one that can even put a smile on your face. This is that book.
This is the first book in a planned series and I can't wait to see what wisdom and knowledge Mawson has to share in his later books. Whilst the book is aimed at adults, I do feel that some older children could benefit from this book too.
Reviewed by Stacey
---
Purchase online from:
---
About the Author
Mawson is one of this bright world's few published Writer-Bears. He speaks, as softly as you can imagine, about being one's best in an often baffling world.
A modest bear of generous proportions, distinctive in his white fur coat and bow tie, he's often muddled but always confident, deep in his inner-most stuffing, that things are going to be all right.
In his first book, he ponders that inexpressibly baffling thing, the loss of love. Can you go on being you when you don't know who to be You for?
"She Ran Away From Love" will be out in the bright world in 2018. It stars little Frilly who hopes to Find Herself. "Dreamy Days" and more titles will follow.


---