A Shattered Lens by Layton Green – Book Review
A Shattered Lens by Layton Green – Book Review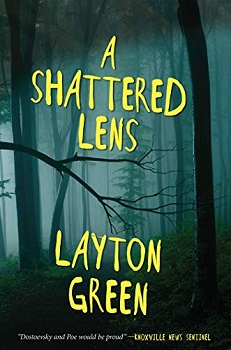 A Shattered Lens
A Detective Preach Everson Novel
Author – Layton Green
Publisher – Prometheus Books
Pages – 304
Released – 20th March 2019
ISBN-13 – 978-1633885387
Format – ebook, paperback
Reviewer – Nia
Rating – 3 Stars
I received a free copy of this book.
This post contains affiliate links.
A detective investigates the murder of a teenage golden boy that has rocked a small town–and the chief suspect is the victim's mother.
Annalise Stephens Blue has plans to become a world-famous filmmaker. As she begins filming an exposé of her small town called Night Lives, she uncovers more than she bargained for: on the very first night of filming, she stumbles upon a murder in the woods, and flees the scene steps ahead of the killer.
Detective Joe "Preach" Everson is called to investigate. The victim, David Stratton, is the town's golden boy and high school quarterback. A modern version of what Preach used to be. Not only that, the boy's mother is Claire Lourdis, a beautiful divorcée who Preach fell for in high school–as well as the main suspect in her son's murder.
As Preach delves into the secrets lurking beneath the surface of the town and searches for the missing girl who may have witnessed the crime, he must put his own feelings aside and pursue the answer to a terrible question: is a mother capable of murdering her own child?

This is the second instalment in the Detective Preach Everson series, continuing where the first 'Written in Blood' book left off.
This time, Preach is investigating the murder of the high school quarterback. He can draw a lot of parallels between this kid's life and his own at the same age, which makes the case hit particularly close to home.
During the investigation, Preach must also deal with romantic strife after reconnecting with his high school crush and finding balance with his girlfriend now that she's qualified as a prosecutor. Personally, I felt that this aspect of the novel was unnecessary and a bit awkward as it didn't show Preach off in a remotely good light, making it harder to root for him as a character. It also overshadowed the fact that a teenager has been murdered and his body dumped, something that nobody seems particularly distraught over!
The pacing in this novel is quite slow and leads me to think that some of the characters and issues introduced in this book will reappear in later instalments in the series as a common thread, for example the gentrification of small town America that is mentioned multiple times.
The mystery itself is quite compelling and with enough red herrings to keep you guessing. I enjoyed the different POVs in this book, giving the perspectives of characters from very different backgrounds within the narratives.
I recommend this book for fans of police procedural novels and murder mysteries.
Book Reviewer – Nia
---
Purchase online from:
---
About the Author

Layton Green writes in multiple genres and is the author of the bestselling Dominic Grey series, as well as other works of fiction. His novels have been nominated for multiple awards (including a finalist for a prestigious International Thriller Writers award), optioned for film, and have reached #1 on numerous genre lists in the United States, the United Kingdom, and Germany. The fourth Dominic Grey novel, The Shadow Cartel was a #2 overall bestseller on Amazon UK.
In addition to writing, Layton attended law school in New Orleans and was a practicing attorney for ten very long years. He has also been an intern for the United Nations, an ESL teacher in Central America, a bartender in London, a seller of cheap knives on the streets of Brixton, a door to door phone book deliverer in Florida, and the list goes downhill from there.
Layton lives with his wife and children in North Carolina.



---
Share your thoughts on A Shattered Lens in the comment section below!
---
The above links are affiliate links. I receive a very small percentage from each item you purchase via these link, which is at no extra cost to you. If you are thinking about purchasing the book, please think about using one of the links. All money received goes back into the blog and helps to keep it running. Thank you.