The Dark Net by Benjamin Percy – Book Review
The Dark Net by Benjamin Percy – Book Review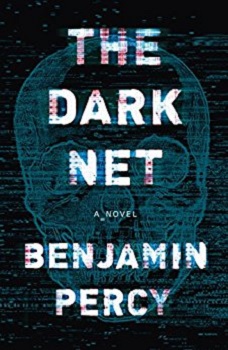 The Dark Net
Author – Benjamin Percy
Publisher – Hodder & Stoughton
Pages – 272
Released – 3rd August 2017
ISBN-13 – 978-1473652217
Format – ebook, paperback, hardcover, audio
Reviewer – Stacey
I received a free copy of this book
Post contains affiliate links
The dark net is an online shadowland for criminals to operate anonymously, but when a demonic force begins to hack the minds of its users there is nowhere left to hide.
Twelve-year-old Hannah has been fitted with a high-tech prosthetic that restores her sight, but can't understand why she can now see shadows surrounding certain people.
Lela, an emotionally shut-off, technophobic journalist stumbles onto a story nobody wants her to uncover. A story someone will kill to keep hidden.
A former evangelist, Mike, suffers demons – figurative and literal – and keeps an arsenal of weapons stored in the basement of the homeless shelter he runs.
And Derek, is a hacker who believes himself a soldier, part of a cyber army dedicated to changing the world for the better.
With the virus spreading throughout the net and an ancient evil threatening to break lose on the real world, it falls to these strangers to stop the rising darkness.
THE DARK NET is a cracked-mirror version of the digital nightmare we already live in, a timely and wildly imaginative techno-thriller about the evil that lurks in real and virtual spaces, and the power of a united few to fight back.
Review
The Dark Net was one of those books that I read the synopsis and was eager to read. Unfortunately, I got the book at the same time as I was reading another book to do with the cyber world and had to wait until I'd finished that one before I could start this one. I didn't want to get the two muddled up.
Upon starting, I quickly realised that I wasn't going to fly through it like I thought I would. I read the first two chapters twice as I found my mind drifting whilst reading and not taking the information in. This actually happened for the next couple of chapters too, but then something clicked and I became fully emerged in the plot. I suppose when the 'dark' finally arrived.
The book is certainly bang up to date when it comes to technology and the net. There are some techie words, but there weren't that many that it made for uncomfortable reading. For me, the book started off slowly, a bit too slow for my liking. I also felt the start was a padded out with information that I didn't need to know. Once it got going though the pace picked up and the book actually became very enjoyable.
The main character, Lela was likeable in her own way. Yes, she wasn't perfect and had plenty of flaws, but that's what made her likeable for me. She was a journalist with a 'won't take no for an answer' attitude. She was always looking for the next big storyline that would propel her future and status in the journalism world, especially after her career hadn't been that full on since she help expose a local serial killer named Tusk. I also found it quite amusing how a book about technology had a technophobe as its main character.
There were plenty of secondary characters too, some that were really quite interesting, like 12 year old Hannah, Lela's niece. Some of the others did grate on me, but you can't have a book full of characters that you will just like, there has to be a balance.
The combination between the cyber world and the supernatural is perfectly executed, there are also elements of the horror and thriller genres too. If you believe in the supernatural than this could feel very real for you. It is the old cliche of good vs evil, but done in a modern day manner.
If you like to read something a bit 'out-there' and over the top, then The Dark Net is a book for you. The writing may not be perfect, but the book certainly has some great moments that are worth a read.
Reviewed by Stacey

---
About the Author

Benjamin Percy is the author of four novels, The Dark Net, The Dead Lands, Red Moon and The Wilding, as well as two books of short stories, Refresh, Refresh and The Language of Elk.
His fiction and nonfiction have been published in Esquire (where he is a contributing editor), GQ, Time, Men's Journal, Outside, the Wall Street Journal, Tin House, Glimmer Train, Ploughshares, and the Paris Review. He also writes screenplays and comics.
His honors include an NEA fellowship, the Whiting Writer's Award, the Plimpton Prize, the Pushcart Prize and inclusion in Best American Short Stories and Best American Comics. He is the writer-in-residence at St. Olaf College and teaches at the low-residency MFA program at Pacific University.






---