Where the Silence Calls by M J Lee – Book Review
Where the Silence Calls by M J Lee – Book Review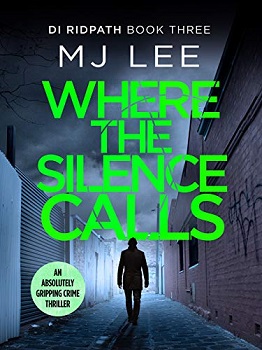 Where the Silence Calls
DI Ridpath Crime Thriller Book Three
Author – M J Lee
Publisher – Canelo
Pages – 351
Released – 23rd September 2019
Format – ebook
Review by – Stacey
Rating – 5 Stars
I received a free copy of this book.
This post contains affiliate links.
Play with fire, and you're going to get burned. The unputdownable new Ridpath crime thriller.
In Manchester, a block of flats is burning. The only victim is a middle-aged man, sat watching TV. Are the fire and the man's death an accident or is something more frightening at work?
Meanwhile, DI Ridpath is back with his wife and enjoying work at the Coroner's Office, his myeloma still in remission. But the quiet life is soon shattered by a new threat.
More corpses start appearing; charred, burnt, silent bodies, strewn in the streets and lodged in buildings. Next to each one is a chilling message sprayed in orange ink.
Fighting on all fronts, Ridpath will be drawn into the dark past of his city and the youth football clubs of the 1990s. He must find the link before any more people die. Before the flames come close to home…

Where the Silence Calls is the third book in the DI Ridpath Crime Thriller series by M J Lee. I have been lucky enough to read and review the first two books, 'Where the Truth Lies' and 'Where The Dead Fall'.
The series follows Detective Inspector Thomas Ridpath who returned to work after a leave of absence due to being diagnosed with cancer, now in remission. On his return he was placed on secondment with the coroner's office, however, he is still being paid by MIT (Major Investigation Teams) though the new boss of the department isn't happy about that. Her budget is tight and she believes that Ridpath is a hothead and should be let go.
In this new instalment, Ridpath is dealing with a series of grisly crimes in which men are being killed, doused and burned. At each scene, the note 'Play the Game' is spray-painted in orange paint. He believes that this is the work of a serial killer but the bosses over at MIT are reluctant to see it like that and believe that the men accidentally died. It's up to Ridpath to prove that there is a serial killer on the streets of Manchester and to find out why he is killing and who he may be targeting next.
I simply adore M J Lee's books, they are imaginative, exciting and put you on the edge of your seat. They are fast-paced and kept me eagerly reading wanting to know what was going to happen next.
In book two we got to learn more about Ridpath's home life and the issues with his wife and daughter. It was nice to see how everything has worked out for them in this book and that Polly was more supportive of her husband and his career, as she really annoyed me in book two.
The books are set in my home-town and I always enjoy being able to fully visualise the areas that are mentioned, it's like when books include a map, but this one is inside of my head 🙂 I also like how realistic the characters and the plot is too realistic sometimes!
The books could work as standalone's, but I would suggest reading the series from the start, especially as a face from the first two books makes an appearance in book three and not in the way I'd hoped.
The whole series is truly amazing and if you love a good police thriller then this is the series to read. I do hope that we get to meet DI Ridpath again.
Book Reviewer – Stacey
---
Purchase online from:
---
About the Author

Martin (M J Lee) has spent most of his adult life writing in one form or another. As a University researcher in history, he wrote pages of notes on reams of obscure topics. As a social worker with Vietnamese refugees, he wrote memoranda. And, as the creative director of an advertising agency, he has written print and press ads, tv commercials, short films and innumerable backs of cornflake packets and hotel websites.
He has spent 25 years of his life working outside the North of England. In London, Hong Kong, Taipei, Singapore, Bangkok and Shanghai, winning awards from Cannes, One Show, D&AD, New York and London Festivals, and the United Nations.
When he's not writing, he splits his time between the UK and Asia, taking pleasure in playing with his daughter, researching his family history, practising downhill ironing, single-handedly solving the problem of the French wine lake and wishing he were George Clooney.




---
What did you think of Where the Silence Calls? Share your thoughts in the comment section below!
---
The above links are affiliate links. I receive a very small percentage from each item you purchase via these link, which is at no extra cost to you. If you are thinking about purchasing the book, please think about using one of the links. All money received goes back into the blog and helps to keep it running. Thank you.