Where The Dead Fall by M J Lee – Book Review
Where The Dead Fall by M J Lee – Book Review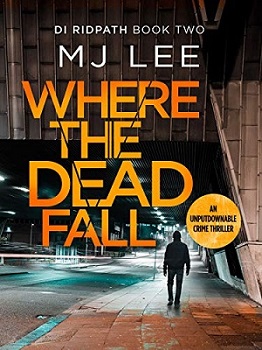 Where The Dead Fall
DI Ridpath Crime Thriller Book Two
Author – M J Lee
Publisher – Canelo
Pages – 344
Released – 11th April 2019
Format – ebook
Reviewer – Stacey
Rating – 5 Stars
I received a free copy of this book.
This post contains affiliate links.
One chance encounter, one street side murder, will change everything. The extraordinary new Ridpath crime thriller.
DI Ridpath is in the process of getting his life back together when everything goes wrong.
Driving to meet his daughter, he is caught in a gruesome motorway accident, in which a near-naked man is rundown by a lorry, while fleeing from a lone gunman. As Ridpath closes Manchester's road network in search of the assailant, one question remains: why did nobody else see him?
Ridpath's investigations soon unearth a number of inconsistencies, which pulls the police force itself into question, and hint at something sinister to come.
For Manchester is on the brink of a fresh surge of violence unlike anything it has seen in decades, and Ridpath must battle this unprecedented conflict along with his own demons. One thing is for sure. There will be blood on the streets…

Detective Inspector Thomas Ridpath is back in the second exciting instalment in the DI Ridpath Series.
The first book 'Where the Truth Lies' introduced us to DI Ridpath as he hunted 'The Beast of Manchester' and started his job working at The Coroners Office after he returned from sick leave from fighting cancer. This time DI Ridpath is trying to solve the case of crime gang bosses children being murdered and bring the murderer or murderers to justice before there is another gang warfare happening on the streets of Manchester and turning the place back to Gunchester.
I'm old enough to remember the years of Gunchester. In fact, the school I went to was on the edge of one of the worst areas involved and had numerous pupils that were part of different gangs, so Where the Dead Fall resonated with me and I was just hoping that DI Ridpath could stop a turf war happening on the streets.
The book opens with DI Ridpath driving back from a meeting and witnessing a man run across the motorway in front of his car. Luckily Ridpath manages to brake in time. The man looks panicky and before Ridpath can help him he carries on running straight into the oncoming path of a lorry, instantly being killed. Ridpath is sure he saw a gunman on the hard shoulder but with no witnesses seeing the gunman, nor any cameras picking him up, Ridpath is made to feel like a laughing stock.
From this opening scene, the tension and excitement build, leaving you wanting more as you piece together the jigsaw as further bodies, both older and newer turn up. All have something in common, they are the sons of crime bosses.
Whilst the rest of MIT (Major Incident Team) believing that this is the start of a turf war in the city, a tit-for-tat, Ridpath isn't convinced but he can't seem to get anyone on his side. It's up to him with some help from the new pathologist Dr. Schofield to discover the truth.
The book was pure entertainment from the first page to the last. I love that the series is written in my home town as I can visualise the areas perfectly. There are plenty of twists and turns to throw you off course more than once. The characters are all intriguing and a real mixed bag, the only person I've never been able to warm to throughout the series is Ridpath's wife Polly. Her attitude to his career just grates on me.
If you are looking for a thriller that will keep you on the edge of your seat, Where the Dead Fall is the one. Once I started reading I did not want to put it down. Whilst I would say this could be read as a standalone it would be better to read book one 'Where the Truth Lies' first as you will get to understand Ridpath and the way he works better.
Book Reviewer – Stacey
---
Purchase online from:
---
About the Author

Martin (M J Lee) has spent most of his adult life writing in one form or another. As a University researcher in history, he wrote pages of notes on reams of obscure topics. As a social worker with Vietnamese refugees, he wrote memoranda. And, as the creative director of an advertising agency, he has written print and press ads, tv commercials, short films and innumerable backs of cornflake packets and hotel websites.
He has spent 25 years of his life working outside the North of England. In London, Hong Kong, Taipei, Singapore, Bangkok and Shanghai, winning awards from Cannes, One Show, D&AD, New York and London Festivals, and the United Nations.
When he's not writing, he splits his time between the UK and Asia, taking pleasure in playing with his daughter, researching his family history, practising downhill ironing, single-handedly solving the problem of the French wine lake and wishing he were George Clooney.




---
What did you think of Where The Dead Fall? Share your thoughts in the comment section below!
---
The above links are affiliate links. I receive a very small percentage from each item you purchase via these link, which is at no extra cost to you. If you are thinking about purchasing the book, please think about using one of the links. All money received goes back into the blog and helps to keep it running. Thank you.