We Were Never Here by Andrea Bartz – Book Review
We Were Never Here by Andrea Bartz – Book Review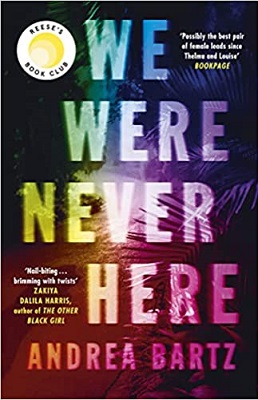 We Were Never Here
Author – Andrea Bartz
Publisher – Michael Joseph
Pages – 320
Released – 12th August 2021
ISBN-13 – 978-0241559239
Format – ebook, paperback, audio
Rating – 4 Stars
I received a free copy of this book.
This post contains affiliate links.


Synopsis
YOUR BEST FRIEND KILLED A MAN.
NOW SHE NEEDS YOUR HELP . . .
BUT CAN YOU REALLY TRUST HER MOTIVES?
On holiday in Chile with her best friend Kristen, Emily is having the time of her life.
Until one night, she finds their hotel suite covered in blood.
Kristen claims a backpacker attacked her. She shouted, but no-one heard. She struggled, but he was too strong.
She had no option but to kill him.
With no evidence of the assault, Emily must help her hide the body. . .
Back home, Emily tries to forget what happened, but a surprise visit from Kristen forces her to confront the events of that night.
As the walls close in, Emily asks herself: can her closest friend be trusted?
Emily Donovan and Kristen Czarnecki have been besties since college at Northwestern University. They're still tight ten years later, even though Emily now lives in Milwaukee and Kristen is halfway around the world in Sydney.
One of the ways they stay close is by taking a girls' trip each year to an exotic location. This year's trip is to Chile. Their carefree trek through the rural Andes takes a left turn, though, when Emily returns to their hotel room to find Kristen covered in blood and a dead backpacker on the floor. Kristen says the backpacker attacked her and she had no choice but to kill him. Now, she insists, Emily must help her dispose of the body.
Back in Milwaukee, guilt about what happened in Chile dogs Emily, and she can't understand why Kristen is so nonchalant about it. Then Kristen unexpectedly shows up at Emily's front door all the way from Australia. And, it seems, Kristen pops up everywhere Emily goes. She's even intruding on Emily's time with her new boyfriend, Aaron. Digging a little, she begins to uncover some troubling information about the Kristen she thought she knew. Is Kristen's version of events in Chile the way things really happened? Is Kristen's friendship becoming an obsession?
Emily narrates We Were Never Here in the first person. It's an engaging story even if one or two of the reveals toward the end are predictable. But Emily indulges in so much hand-wringing and overthinking that, for me at least, it affected the pace of the story. Guilt and fear of discovery permeate her thoughts, and her brooding occasionally edges toward misandry. This may be a ploy to ratchet up the tension, but it often has the opposite effect of taking the reader on a detour from the action. The denouement isn't entirely unexpected, but it's not completely predictable, either.
Fortunately, as the action reaches a climax, the side trips into Emily's psyche are less intrusive and the book starts to feel more like the thriller it's supposed to be. If you like the genre, you should enjoy this book.
Purchase Online From:
---
What did you think of 'We Were Never Here'? Share your thoughts in the comment section below!
---
The above links are affiliate links. I receive a very small percentage from each item you purchase via these link, which is at no extra cost to you. If you are thinking about purchasing the book, please think about using one of the links. All money received goes back into the blog and helps to keep it running. Thank you.
Like us on Facebook – Tweet us on Twitter – Pin us on Pinterest – Join us on Instagram