Six by GS Locke – Book Review
Six by GS Locke – Book Review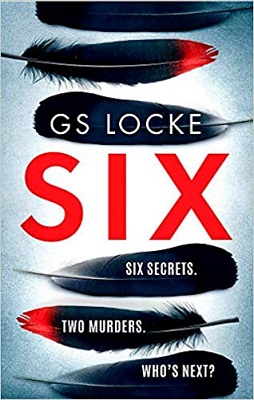 Six
Author – GS Locke
Publisher – Orion
Pages – 400
Released – 19th August 2021
ISBN-13 – 978-1409190509
Format – ebook, paperback, audio
Rating – 5 Stars
I received a free copy of this book.
This post contains affiliate links.


Synopsis
Successful criminal defence lawyer, Jon Shaw, comes face to face with, Danny Hallam, the man he tried to murder twenty-five years ago…
Then: While drug running for a local crime lord, Danny decides to call in a large debt from a young female drug addict, Micki Ashton. During a chaotic night on a riverbank, in which punches are thrown, Shaw steps in to protect the defenceless woman, but things turn deadly when Danny produces a knife and Micki is stabbed. Appalled by his friend's actions, Shaw deliberately pushes Danny into the river. Danny survives and, arrested and charged for murder, spends the next quarter of a century in prison.
Now: Meanwhile, the gang disintegrates, each haunted by the death of a young woman. Throughout his sentence, Danny refuses to name those involved. But someone knows and believes they should all pay. As, one by one, the former friends are picked off only Danny and Shaw remain. With the race on to identify a determined and forensically aware killer, Shaw throws in his lot with a detective who has her own cross to bear and her own reasons for abandoning routine police procedure.
Criminal Defence Lawyer Jon Shaw's life is about to be turned upside down thanks to a crime he was associated with twenty-five years earlier.
When Jon's ex-friend and newly released prisoner Danny Hallam turns up at a bar one night, Jon's first response is to tell him to 'get lost'. But Danny has devastating news. Two of the six men involved in the 'incident' twenty-five years ago, the one Danny went to prison for, have been killed. Someone is after retribution. They want the six people involved to pay for what they did.
Can Jon and Danny work together to find out who is trying to kill them, and why, before one or both of them end up dead?
I love a good thriller and Six certainly is a damn good thriller. It is fresh and exhilarating. I rushed through it in just two days as I was transfixed by the plot and I needed to know who could be coming after these men, so long after the crime they committed took place.
The book tells you pretty early on what happened twenty-five years ago and what each of the roles of the six men involved played. We also get to find out how the men's lives have turned out now.
Jon is the only successful one, the one with a high-flying career that could come crashing down on him, if he manages to stay alive! He was hoping that his past stayed exactly where it should have, the past. He never expected it to come back to haunt him, although he is haunted in his nightmares every night by what he witnessed and was associated with, even if he was never caught.
As well as the men's story we also get to read chapters from the police detective looking into the recent deaths and the killer. Both of which added an extra layer to the story and made it more realistic.
Six is a book that kept me guessing for most of the way through. I enjoyed the multi-layered plot and the pacing was spot on. If you love thrillers that have you pondering who the killer could be and trying to put the pieces together then this is a book for you.
Purchase Online From:
---
What did you think of 'Six'? Share your thoughts in the comment section below!
---
The above links are affiliate links. I receive a very small percentage from each item you purchase via these link, which is at no extra cost to you. If you are thinking about purchasing the book, please think about using one of the links. All money received goes back into the blog and helps to keep it running. Thank you.
Like us on Facebook – Tweet us on Twitter – Pin us on Pinterest – Join us on Instagram