The Owl Goddess by Jenny Twist – Book Review
The Owl Goddess by Jenny Twist – Book Review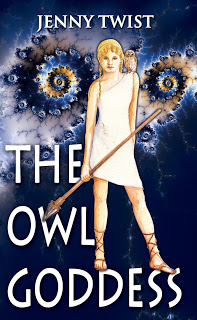 The Owl Goddess
Author – Jenny Twist
Publisher – CreateSpace
Pages – 446
Release Date – 6th April 2016
Format – ebook, paperback
Rating – 3 stars
Reviewer – Elise
I received a free copy of this book
Post Contains Affiliate Links

The boy watched the star fall. It fell very slowly, and it was not one light but a multitude of lights spinning lazily through the night sky. Then great silver fish flew through the sky and other mysterious lights began to appear on the mountain. At last a great thunderbolt struck the ocean.
The sound was flat and hollow and unbelievably loud, as if a giant had stamped on the earth. And the sign of the Goddess appeared in the sky – the sign of the Sacred Mushroom. These are the events that mark the arrival of the Atlantis, the doomed starship, bringing new gods who would change the life of the boy and his people forever.

The Owl Goddess is certainly a creative story, breathing fantastical life into conspiracy theories. Some have posited that the gods of the Greek pantheon were actually aliens from outer space who brought new technology and skills to the people on earth, but humans could only understand them as gods and tried to make sense of their antics by allegorical folktales about their deeds.
In The Owl Goddess, Twist explores this possibility with the story of young Athena and her crowd of Olympian friends and their contact with humans on a young earth.
If you're a fan of Greek mythology, this book has plenty to enjoy. It's an interesting retelling of old stories, and has a charm and wit in its straightforward prose that is hard not to enjoy.
Despite the inventiveness of this re-imagining, however, there is still much to be desired. The writing often comes across as too simple, filled with overly childish dialogue and lazy descriptive shortcuts. The characters are also rather shallow, without much complexity or dynamism.
At times the plot felt a bit hurried, and some wildly coincidental piece of luck would land on a character and move the story forward. With a little more time spent on the plot, some of these scenes could have been much better, but as it is they just feel uninspired.
I still very much enjoyed The Owl Goddess because I'm a fan of Greek mythology, but I can't in good conscience recommend it to another adult. A book should never substitute creativity for craft, and I only wish that there was a little more complexity to the story to make it really come alive. Perhaps this book would be better for an early or middle grade reader, but for an adult, it's just a brief entertainment.
So, despite the ingenuity of the idea, I can only give this book three stars.
Book Reviewed by Elise
Purchase Links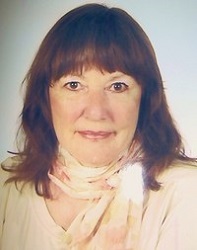 Jenny Twist left school at fifteen and went to work in an asbestos factory. After working in various jobs, including bacon-packer and escapologist's assistant (she was The Lovely Tanya), she returned to full-time education and did a BA in history at Manchester and post-graduate studies at Oxford.
In 2001 she retired and moved to Spain where she lives with her husband, Vic, and their rather eccentric dog and cat. Besides writing, she enjoys reading, knitting and attempting to do fiendishly difficult logic puzzles.
Author Links