Interview with Author Kam Majd
Kam Majd
I am thrilled to have interviewed author Kam Majd, who shared with us details of his writing life, his book 'High Wire', which was released on 13th March 2023, and answered a few fun questions. This post contains affiliate links.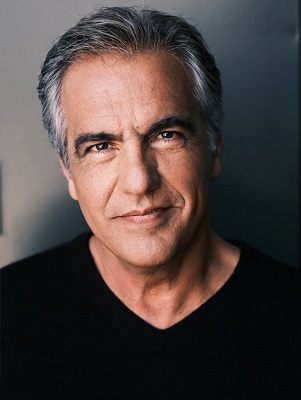 Kam Majd is an Edgar® Award-nominated author of character-driven, edge-of-your-seat suspense novels. Kam has climbed in and out of cockpits for forty-four years, thirty-five of which have been at American Airlines, with his most recent position as a Boeing 777 captain.
Born in Iran, and educated around the world in India, Great Britain, and the United States, Kam and his wife, Lori, now live in Southern California with their two daughters, Megan and Sydney, nearby.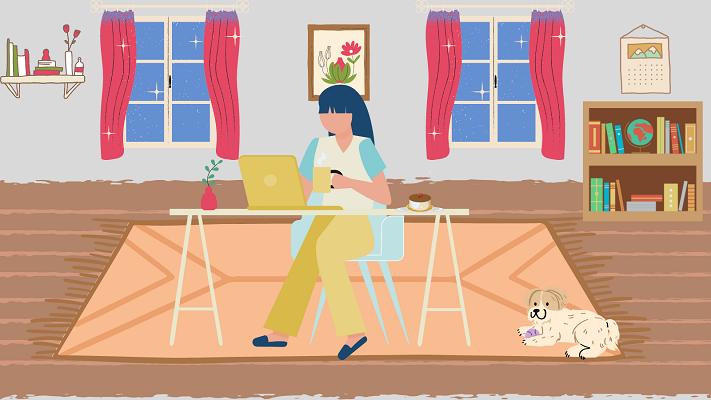 1) Where did the inspiration for your book come from?
Aircraft systems are highly automated and continuously improving. One of these is the flight control system which uses the fly-by-wire technology which was first used in the military and later picked up by commercial aircraft manufacturers. Today, most Boeing and almost all Airbus planes use fly-by-wire systems which have replaced the heavy and bulky hydraulic system in favor of computers and small electrical motors. Now when the pilot is turning the yoke, all he or she is doing is typing on a keyboard. It takes a million bits of information and dozens of computers to turn the yoke one degree. The system is extremely reliable with backups to backups, but all of these backups have been placed there in case of a mechanical failure.
The Question I asked myself was what if there was not a mechanical failure. What if the failure was man made, with data designed to make the computers believe they were doing the right thing. I interviewed engineers from Boeing and Airbus who both told me that I needed to send a copy of High Wire to the manufacturer's security departments which I did.
2) How did you plan out the plot?
The story formed rapidly. It would be formed mostly on long flights (particularly to London Heathrow which I flew for 11 years). I would take notes in the cockpit and then come home and apply them to an outline. I knew how I wanted the book to end, so I steered the story in that direction.
3) When did you choose the title for your book?
The title changed multiples of times. It was actually called FLY BY WIRE at the beginning, until I realized not everyone would know what that means. The final title came after the book was finished.
4) How did you come up with the names for your characters?
I created a vision board of characters. I went through magazines and pulled out pictures of what I thought each character looked like. The I asked myself, what's this guy's name.
5) Can you give us a hint to any sections that you removed?
Kate Gallagher, the protagonist had a disabled brother. The Editor suggested that I take it out and I did because it detracted from the story.
6) What made you choose this genre?
I was always attracted to fast-paced thrillers. I also know aviation since I have spent 44 years in it. The two came together.
7) How long did it take you to complete your book?
6 months.
8) Can you describe your book in three words?
Captain stands accused.
9) What's the hardest part of being a writer?
For me it's the discipline of writing every single day. Clearly this is key to success, but it's so damn hard. Especially when things are not all going your way.
10) Why should our readers pick your book up?
It's a current event book. What I write about is every bit as applicable today at it was 20 years ago, as it will be 20 years from now. It's also informative. You get to go inside a cockpit and see how things work. But more than all of this, it's a story David and Goliath, good versus bad, that your readers should be able to relate to. The book was received very well by the media and nominated by the Edgars. It's a fun read. And if all of these are not enough reason yet, then your readers should pick up the book because it'll make me happy.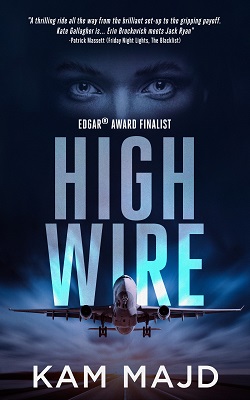 High Wire
Author – Kam Majd
Publisher – Mindstir Media
Pages – 304
Release Date – 13th March 2023
ISBN 13 – 978-1960142924
Format – ebook, paperback, hardcover, audio
Synopsis
A WOMAN STANDS ACCUSED
BUT THE COST TO PROVE HER INNOCENCE
MAY JUST BE HER LIFE
Captain Kate Gallagher has a plane to land and a daughter to get home to. But first, she's got to contend with a confrontational co-pilot, blizzard conditions, and something far more treacherous-a plane contaminated with a lethal computer virus. When the controls refuse to respond to her commands, she has two choices: Turn the plane around or trust her instinct.
One day later, the world's press is picking through the mangled remains of Flight 394 and crying pilot error. To clear her name, Kate must endure humiliation and blame, and the risk to herself and her family, until she comes face to face with the madman who created the virus. There, she uncovers a shocking conspiracy that has already zeroed in on a new target: another plane, another deadly disaster.
With only seconds to save the 262 passengers on board, Kate Gallagher will fight her way back into the pilot's seat and up into the air, in a life-and-death race against time, and a computer virus that is wired, running, and ready to kill again. And the price for saving all those lives may be only one… hers.
Purchase Online From:
Fun Questions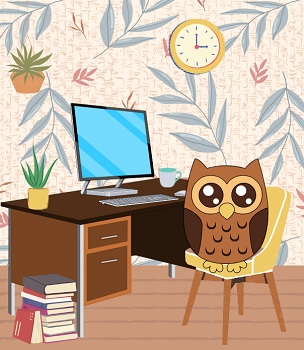 1) Do you have a writing buddy (i.e. a pet)?
The closest thing I have to a writing buddy is my wife Lori. But she has to be in a good mood and the stars have to be aligned before I can get opinions.
2) Do you have any writing quirks?
No quirks. But if I have been recently rejected, a glass of wine helps get me started.
I usually write standing up. Mostly at a desk but sometime at a bar.
4) Your book has been made into a movie, you've been offered a cameo role, what will you be doing?
Mmmmm, that's a tough one. I would want to play Michael O'Rourke, but too much gray hair. It would have to be Marshal Hayes.
5) A talking owl has just finished reading your book, what's the first thing he says to you?
'Whooo Whooo Whooo? The owl wants to know who did it. Everyone wants to know who did it. The Edgars are awards given for best mystery. High Wire has lots of that.'
---
Author links
Twitter
Facebook
Instagram
Goodreads
Website
---
A big thank you to Kam Majd for sharing his writing life with us and for a wonderful interview.
The above links are affiliate links. I receive a very small percentage from each item you purchase via these link, which is at no extra cost to you. If you are thinking about purchasing the book, please think about using one of the links above. Thank you.