The Next Chapter with Julie Haiselden
Julie Haiselden
Today we welcome back author Julie Haiselden to Whispering Stories Blog to catch up on what she has been doing since our interview with her back on 10th November 2016 – The Writing Life of: Julie Haiselden. This post contains affiliate links.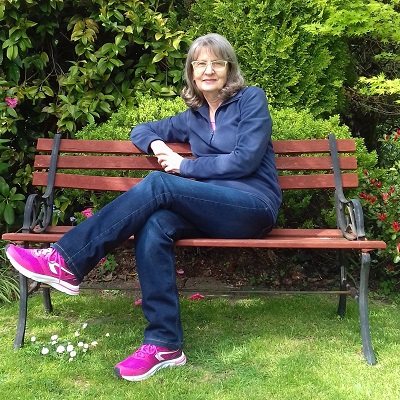 In 2015, my debut novel, Long Shadows was published. My second offering is a Victorian thriller, Evil Echoes and my third, a contemporary soon-to-be-published sequel to Long Shadows, although all three books stand alone.
In a past life, I used to tread the boards and shout the odd stage direction. Currently, I work as a church verger and when I'm not writing, reviewing or blogging, I give talks to local groups and am a volunteer room guide for the National Trust. I am blessed with a marvellous home life as a wife, mother and grandmother.
Thank you to everyone who has supported and encouraged me in this wonderfully crazy self-indulgent adventure.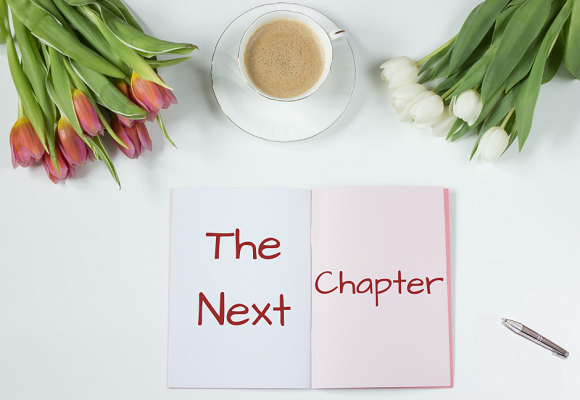 Julie Haiselden – Welcome back to Whispering Stories Blog, lovely to be featuring you again. We last met you back in November 2016 when we spoke to you about your writing life and your latest book at the time 'Evil Echoes'. Since that date I believe you have written and published another book.
1) How has life changed since we last met you?
Quite a bit has happened! I've resigned from the NHS at the end of last year. I took up a new appointment in January as a church verger and I now also volunteer as a room guide for the National Trust at Petworth House in Sussex. Other than that, I'm still reading, writing and reviewing, along with frequent trips to Cumbria and The Wirral.
2) Has your writing style changed since we last interviewed you?
I'm still being bullied unmercifully by my characters but that aside, I'm definitely more confident with my storylines. I'm also being ruthless with re-writes.
3) Have you allowed yourself to be influenced by your readers' opinions of your characters?
My characters take on an entity of their own and if they won't listen to me, they are unlikely to allow my readers' opinions of them to influence their behaviour. Obviously I'm pleased when my readers view my characters in the way that is intended.
4) Have you found writing gets easier or harder the more books you write?
Every manuscript is different but overall, I'm probably more disciplined as a writer now. If I'm struggling with an idea then I bin it rather than try to force pieces together that don't really fit. It's an ever-evolving process but no, it doesn't get easier!
5) Is there a difference in the way you feel about your books the more you publish? As in do you still feel the same level of excitement?
Each novel is like having a new baby. It's special and unique and the feeling of pride, joy and fear of what the future holds is exactly the same each time. I love logging onto my author page and just looking at the three covers all lined up next to each other on the screen.
6) If you could live within the pages of any of the books created by you, which would you choose?
It would have to be Blenthorne, my fictitious village in The Lake District; although as it seems to be the murder capital of Cumbria, maybe I should only visit for a short holiday! I love the village street with its shops and the pub, along with all the gossip and the characters in the community going about their daily lives. It seems very real to me and I sometimes forget it only exists in my head.
Concerning your latest book: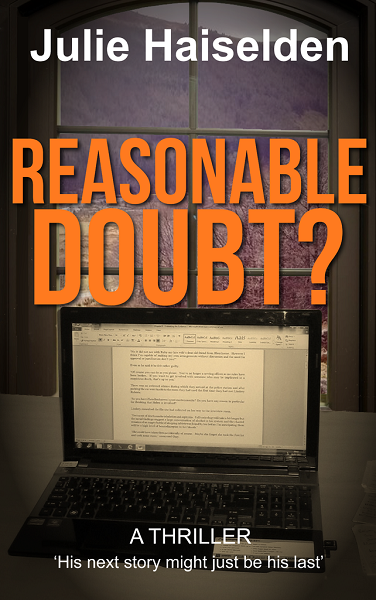 Reasonable Doubt?
Author – Julie Haiselden
Pages – 238
Release Date – 15th April 2019
ISBN 13 – 978-1090488992
Format – ebook, paperback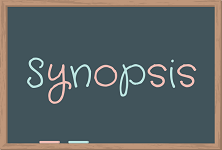 One rural village; so many secrets…
Blenthorne nestles in a quiet corner of Cumbria and is home to local entrepreneur, Lizzie Lockwood. Lizzie has returned to the home she loves after an unpleasant hiatus. She is determined to put the past behind her as she concentrates on her thriving business interests and a fledgling relationship.
Her happy bubble is soon burst by the arrival of tainted newcomer, Helen Anderson who is intent on inveigling herself into Lizzie's life. Hot on her heels is investigative journalist, Percival Lynton Whitaker. As he garners gossip for his impending 'Reasonable Doubt?' exposé on Helen, a chance encounter takes him back to a macabre event from yesteryear. Has he inadvertently stumbled across someone who was implicated in a notorious unsolved multiple murder?
Lizzie is far from pleased that the journalist's focus appears to have shifted. As events play out, she starts to wonder how well she knows her community. Maybe Helen is the least of her worries? Is it possible that among her friends or neighbours lurks a murderer? For all its tranquil appearance, is Blenthorne harbouring a child-killer?

7) How long did it take you to write this book?
About nine months in total but I left it for a while because I was unsure about a publishing route. Once I had a way forward, I returned to it with renewed enthusiasm and re-jigged bits here and there, through fresh eyes.
8) Can you tell us a little about your new book (not in the synopsis)?
My new book is a tale of jealousy, fear, pride, love and anger. Past and present crimes converge to set in motion a maelstrom of mystery and murder.
9) Can you tell us anything you edited out of your book?
I edit anything which doesn't move the plot forward. Whilst some scenes might just read as being cosy and gentle, there will be a word, sentence or action that will have some bearing on the final dénouement. I try to keep my chapters an even length and if some scenes seemed to be going on too long, I edit chunks out to keep the structure tight and the plot on track.
10) Are you still going through the same publishing methods?
For various reasons I decided to leave my publisher and try the Indie route. I had a lot of help from Stacey at Whispering Stories who held my hand through the whole process and I believe is now going to be doing the same for some other authors who just need a clever virtual friend.
11) Can you remember seeing your book for the first time in the bookstore, supermarket, online?
Holding the proof paperback copy in my hand felt incredible; knowing, as an Indie author, I had full control over what happened next! I'm sure the novelty will wear off but currently I check the online graphs to see how many copies are sold each day!
12) What next for you in your writing career?
My first book, 'Long Shadows', is no longer being supported by my previous publisher and so my next task is to launch a second edition, so that anyone who reads 'Reasonable Doubt?' can find out what happened in Blenthorne previously, although each book stands alone.
Reviewers Questions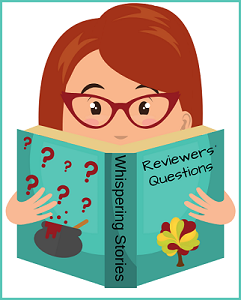 1) Question from Kerstin – What's your favourite book?
I enjoy a variety of authors' work and it depends on my mood as to which would be my favourite on any given day. I prefer suspense and historical novels.
2) Question from Cara – What made you want to become a writer?
I loved creative writing at school, probably because I was spectacularly bad at most other subjects. For years, I wrote short stories for children and it was my youngest child who finally gave me the push I needed to attempt a full length adult book. He's dyslexic and isn't a natural novel reader. So when he said he would deliver a critique if I could produce a manuscript, it started as a challenge and ended as a huge achievement for both of us.
3) Question from Tina – What is your favourite type of cheese?
Brie.
---
Author Social Media and Website links




---
Share your thoughts on our interview with Julie Haiselden in the comment section below!
The above links are affiliate links. I receive a very small percentage from each item you purchase via these link, which is at no extra cost to you. If you are thinking about purchasing the book, please think about using one of the links. All money received goes back into the blog and helps to keep it running. Thank you.