Remnants by Carolyn Arnold – Book Review
Remnants by Carolyn Arnold – Book Review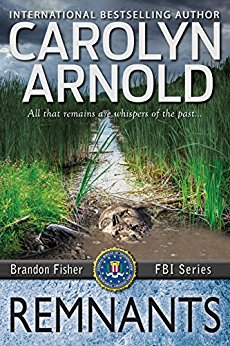 Remnants


Brandon Fisher FBI Series Book Six
Author – Carolyn Arnold
Publisher – Hibbert & Stiles Pub
Pages – 264
Release Date – 11th April 2017
ISBN-13 – 978-1988353500
Format – ebook, paperbook, hardcover
Reviewer – Stacey
I received a free copy of this book
Contains Affiliate Links

All that remains are whispers of the past…
When multiple body parts are recovered from the Little Ogeechee River in Savannah, Georgia, local law enforcement calls in FBI agent and profiler Brandon Fisher and his team to investigate. But with the remains pointing to three separate victims, this isn't proving to be an open-and-shut case.
With no quick means of identifying the deceased, building a profile of this serial killer is more challenging than usual. How are these targets being selected? Why are their limbs being severed and their bodies mutilated? And what is it about them that is triggering this person to murder?
The questions compound as the body count continues to rise, and when a torso painted blue and missing its heart is found, the case takes an even darker turn. But this is only the beginning, and these new leads draw the FBI into a creepy psychological nightmare. One thing is clear, though: The killing isn't going to stop until they figure it all out. And they are running out of time.

The FBI, including Special Agent Brandon Fisher, have been called to attend a crime scene, which the local authorities think is the work of a serial killer. A skinless arm with no hand was found a few days ago on the bank of a river. Now another arm, plus a skinless leg missing it's foot, has been found. All from different victims. All from males aged in their twenties, but there have been no missing persons reports locally.
Whilst trying to establish who the victims are, more body parts turn up, all with the same distinguishing features. That is until a torso washes up. This time the skin is intact, but has been painted blue. This leads the detectives to the conclusion that the murderer is performing some kind of Mayan ritual.
When a phone washes up belonging to a local man, the agents believe they may have their suspect, especially when they visit his property and discover that he went missing a few days ago.
Can the case really be this simple?
Remnants, is a thrilling book, full of twists and turns. You may think that you know the killer, but could you be being led down the wrong path? With every piece of the puzzle that is revealed, you will start doubting yourself, but was your first instinct right all along?
The plot has that gripping intensity to it, and is most certainly a page-turner. I needed to find out who the culprit was, and what made him/her tick.
Special Agent Brandon Fisher is quite a complex, but very likeable character, with his own personal problems. But his isn't the only voice you get to hear throughout the story. The killer is present too. There are clues to the identity throughout, subtly hidden. It's only once you discover who the murderer is, that these clues become apparent.
I thoroughly enjoyed the book from the first word to the last. It is the sixth book in the Brandon Fisher series, but I presume that they can all be read as stand-alone books, as I had no problem understanding the story, nor Brandon.
With such in-depth character developments, a flawless, well-researched plot, and a storyline that holds you to its pages, you can tell that this has been written by an accomplished crime writer.
Now all that's left to do, is to read the other five. Here's hoping that they are as superb as this one.
Book Reviewed by Stacey
Purchase Links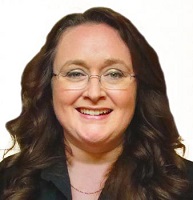 CAROLYN ARNOLD is an international bestselling and award-winning author, as well as a speaker, teacher, and inspirational mentor. She has four continuing fiction series—Detective Madison Knight, Brandon Fisher FBI, McKinley Mysteries, and Matthew Connor Adventures—and has written nearly thirty books. Her genre diversity offers her readers everything from cozy to hard-boiled mysteries, and thrillers to action adventures.
Both her female detective and FBI profiler series have been praised by those in law enforcement as being accurate and entertaining, leading her to adopt the trademark: POLICE PROCEDURALS RESPECTED BY LAW ENFORCEMENT™.
Carolyn was born in a small town and enjoys spending time outdoors, but she also loves the lights of a big city. Grounded by her roots and lifted by her dreams, her overactive imagination insists that she tell her stories. Her intention is to touch the hearts of millions with her books, to entertain, inspire, and empower.
She currently lives just west of Toronto with her husband and beagle and is a member of Crime Writers of Canada and Sisters in Crime.
Author Links
www.carolynarnold.net
@Carolyn_Arnold
Facebook
Pinterest
Instagram
Goodreads