Observer by Robert Lanza & Nancy Kress – Book Review
Observer by Robert Lanza & Nancy Kress – Book Review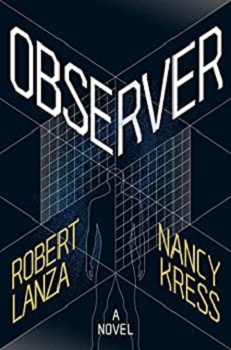 Observer
Author – Robert Lanza & Nancy Kress
Publisher – Fiction Studio Books
Release Date – 10th January 2023
Pages – 395
ISBN 13 – 978-1611883435
Format – ebook, paperback
Star Rating – 5
I received a free copy of this book.
This post contains affiliate links.

Synopsis
Caro Soames-Watkins, a talented neurosurgeon whose career has been upended by controversy, is jobless, broke, and the sole supporter of her sister, a single mother with a severely disabled child.
When she receives a strange job offer from Nobel Prize-winning scientist Sam Watkins, a great uncle she barely knows, desperation forces her to take it in spite of serious suspicions.
Watkins has built a mysterious medical facility in the Caribbean to conduct research into the nature of consciousness, reality, and life after death. Helped in his mission by his old friend, eminent physicist George Weigert, and young tech entrepreneur Julian Dey, Sam has gone far beyond curing the body to develop a technology that could solve the riddle of mortality.
Two obstacles stand in their way: someone on the inside is leaking intel and Watkins' failing body must last long enough for the technology to be ready.
As danger mounts, Caro finds more than she bargained for, including murder, love, and a deeper understanding into the nature of reality.
A mind-expanding journey to the very edges of science, Observer will thrill you, inspire you, and lead you to think about life and the power of the imagination in startling new ways.
'Observer' is a sci-fi novel by American-based co-authors, Robert Lanza and Nancy Kress. It is written in the third person and the past tense with each chapter ending on an intriguing hook. We meet Dr Caroline Soames-Watkins, an up-and-coming neurosurgeon, on track for a
glittering career until she is cancelled by a relentless social media campaign rained down on her after she accuses a seemingly untouchable senior colleague of sexual impropriety. It appears that no hospital is willing to offer her a post and with a huge student debt and a niece with significant health issues, she accepts an offer from her great-uncle Nobel laureate, Dr Sam Watkins. She travels to Cayman Brac to join a project with which she is morally and ethically uncomfortable.
I'm not going to pretend I understand the premise of the science behind the plot. Suffice it to say, Sam Watkins' friend and colleague, eminent physicist George Weigert, has come up with a revolutionary theory challenging the framework of contemporary science. He calls this the 'Primacy of the Observer' and it concentrates on the possibility of a 'multiverse' rather than a universe.
The plot develops at pace with an event which could affect the efficacy of the project and there is an unexpected love interest for Caro. I was delighted to find the object of her affection wasn't the archetypal perfect male specimen. I would question the mention of a
death of a character about half way through the book when we weren't supposed to know about it until much later in the story.
This is a very carefully constructed story with an unexpected ending. I thought Caro was strong and multi-dimensional and she was ably assisted by her foils. I think sci-fi fans will very much enjoy this book. The authors have used literary devices well and in spite of the seriousness of the underlying themes, there is a smattering of humour along the way. It kept me engaged from start to finish and I award five stars.
---
Purchase Online:
Robert Lanza & Nancy Kress
Named one of TIME magazine's "100 Most Influential People," Robert Lanza is a renowned scientist and author whose ground-breaking research spans many fields, from biology to theoretical physics. He has worked with some of the greatest minds of our time, including
Jonas Salk and B.F. Skinner. A U.S. News and World Report cover story called him "the living embodiment of the character played by Matt Damon in Good Will Hunting" and described him as a "genius," a "renegade thinker," and likened him to Einstein. He is the father of Biocentrism, the basis of Observer, his first novel.
He has been pondering the larger existential questions since he was a young boy, when for play he took excursions deep into the forests of eastern Massachusetts observing nature (like Emerson and Thoreau, who grew up just a few miles from him). This fascination with the nature of life infused his entire career, leading him to the very frontiers of biology and science.
Author Links:
Nancy Kress is the author of thirty-five books, including twenty-seven novels, four collections of short stories, and three books on writing. Her work has won six Nebula Awards, two Hugo Awards, a Sturgeon, and the John W. Campbell Memorial Award. Her
most recent works are a stand-alone novella about genetic engineering, Sea Change (Tachyon, 2020) and a science fiction novel of power and money, The Eleventh Gate (Baen, 2020). Her fiction has been translated into nearly two dozen languages including Klingon. She has taught writing in Leipzig, Beijing, and throughout the U.S. Nancy lives in Seattle with her husband, writer Jack Skillingstead.
Author Links:
---
The above links are affiliate links. I receive a very small percentage from each item you purchase via these links, which is at no extra cost to you. If you are thinking about purchasing the book, please think about using one of the links. All money received goes back into the blog and helps to keep it running. Thank you.