Proud to Be Me by Kim Farrell – Book Review
Proud to Be Me by Kim Farrell – Book Review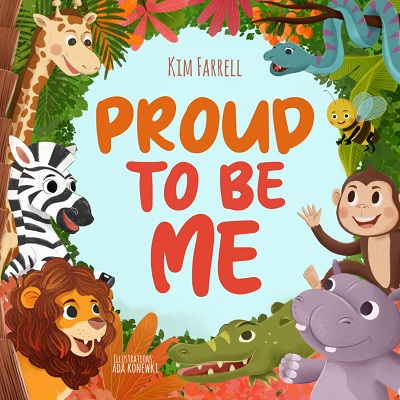 Proud to Be Me
Author – Kim Farrell
Publisher – Confidence Loop
Release Date – 27th March 2023
Pages – 32
ISBN 13 – 979-8987652923
Format – Paperback, Hardcover
Star Rating – 5
I received a free copy of this book.
This post contains affiliate links.

Synopsis
Have you ever compared yourself to someone else and felt sad? Do you ever worry you are not good enough? If so, Buzz has a message for you!
Join this friendly bumblebee as he helps each of his friends recognize and appreciate their unique qualities. Through vibrant illustrations, fun text patterns, and engaging rhyme, children will be captivated as they join in on each character's journey of self-discovery. By the end, you'll be shouting, "I love myself inside and out because no one is quite like me!"
Proud to Be Me by Kim Farrell is a children's picture book about body confidence and feeling comfortable in your own skin whilst recognising that everyone is different.
The story is told in a rhyming style and features a bee called Buzz and his friends who are all very different. From a tall giraffe called George to a short alligator called Al and a hippo called Hope who doesn't like her skin.
I loved this book. It is wonderful to read a children's book that is about teaching little ones that everyone is unique and that it is good to be different and that they should love their bodies. I'm a big believer in teaching children these types of things whilst they are young so that they grow up with that knowledge embedded within them.
The illustrations are full-page, bright, colourful, and really pop off the page. They emphasise the text fully and showcase the animals and their wonderful bodies perfectly.
Proud to Be Me is an amazing book. It is simple to read, yet contains a powerful message. This would be the perfect book to have in a school library or for a class read. It is touching and relatable and I hope that children embrace the message fully. At the back of the book, there are activities for children and messages for adults where they can get free resources to go along with the teachings in the book.
---
Purchase Online:
Kim Farrell
Kim Farrell is the author of "Proud to Be Me," an award-winning children's book about confidence, diversity, and acceptance. She is also the founder of The Confidence Loop, a publishing imprint and website that promotes healthy self-esteem in children. As a wellness program coordinator, mental health advocate and writer, she has published an array of articles on various health and wellness topics, in addition to several short stories. But her most prized accomplishment to date is becoming a mother to a beautiful baby boy named Tyler in 2022.
Kim lives in Pennsylvania with her husband, son, and rescue dog, who have all been sources of inspiration and support through the process of publishing her first children's picture book. When she is not working, writing, or cleaning up poop, you can find her hanging out with her family, creating Pinterest-fail home decor, or wandering aimlessly around Target (with coffee in hand).
Author Links:
---
The above links are affiliate links. I receive a very small percentage from each item you purchase via these links, which is at no extra cost to you. If you are thinking about purchasing the book, please think about using one of the links. All money received goes back into the blog and helps to keep it running. Thank you.