They Didn't Teach This in Worm School! by Simone Lia – Book Review
They Didn't Teach This in Worm School! by Simone Lia – Book Review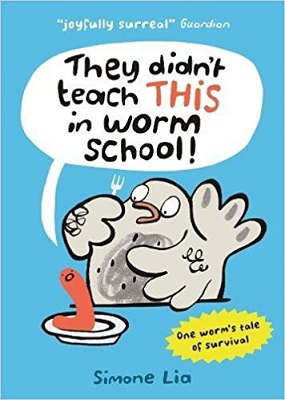 They Didn't Teach This in Worm School!
Author – Simone Lia
Publisher – Walker Books
Pages – 192
Released – 3rd August 2017
ISBN-13 – 978-1406373349
Format – paperback, hardcover
Reviewer – Stacey
I received this book for free
Post Contains Affiliate Links
Marcus is a worm. He likes the colour brown. He likes mud (because it's brown). And he likes digging holes in the mud-brown earth. Strangely, he likes beat boxing, too.
But when Marcus meets Laurence (a scruffy, fat bird who looks a lot like a chicken … and thinks he's a flamingo!), he comes face to face with his worst fear. Will he get eaten for breakfast? It is a Very Bad Situation. Marcus has two choices: Survive, Or get slurped up like a piece of spaghetti. Mustering all his worm instincts, he finds himself striking up a conversation.
It's amazing how a simple "Good morning!" can end up saving your life… And so begins a tale of high adventure, wily tricks and unlikely friendship.
Review
They Didn't Teach This in Worm School, is a funny, completely humorous, and very silly book that I would say is aimed at 7 years plus children, those that are confident readers.
Marcus is a worm. He likes being a worm and doesn't desire much in life. Laurence is a bird, looks like a pigeon, but he thinks he's a flamingo. He has wild dreams and one very special to him. He wants to go an live in Africa, Lake Nakuru in Kenya to be precise, to be with his family, the flamingos.
After nearly eating Marcus, they come to a deal. Marcus will navigate Laurence to Africa, although Marcus doesn't even know where Africa is, nor how to read a map, and Laurence won't eat him.
The book is an astonishing tale of two very different creatures, the predator and the prey, becoming friends, and going through a lot of mishaps, making friends and overcoming enemies, on their long journey.
I think this book is brilliant. It had me laughing out loud at times. It has a great plot, with perfect characters. Marcus is full of wisdom, where Laurence is a little naive. I feel that the author did a wonderful job having Marcus narrator the story.
There are illustrations on every page, a mixture of grey, white and red, some with comic book style quotes. This made the story more enjoyable, and a page turner.
I think kids looking for a humorous book will love They Didn't Teach This in Worm School! of one worms tale of survival, and finding friendship in an unusual circumstance.
Reviewed by Stacey

Amazon.co.uk – Amazon.com
---
About the Author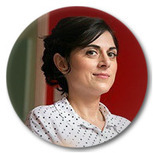 Simone Lia is an artist and writer and is the creator of the weekly comic strip, Things That I've Learnt, in The Observer. Her debut illustrated fiction novel, They Didn't Teach THIS in Worm School! published by Walker Books was described by her German publisher, Königskinder as "a philosophical essay on friendship".
Her work is an ongoing investigation into what it means to be human and she often communicates her ideas using anthropomorphism, making her stories accessible to audiences of different ages and backgrounds. Lia has the ability to communicate complex emotional relationships, simply and with a warm sense of humour.
Lia has over twenty years of experience working with image, text and story since studying illustration at the University of Brighton and then completing a Masters in visual communication at the Royal College of Art. Her work has been published and exhibited internationally. Simone Lia lives and works in London.




---
Leave a comment below with your thoughts on our review of They Didn't Teach This in Worm School!