The Feed by Nick Clark Windo – Book Review
The Feed by Nick Clark Windo – Book Review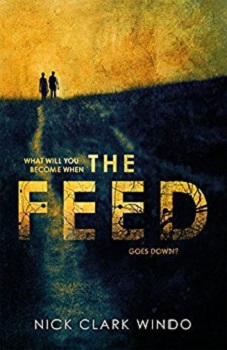 The Feed
Author – Nick Clark Windo
Publisher – Headline
Pages – 368
Released – 25th January 2018
ISBN-13 – 978-1472241917
Format – ebook, paperback, hardcover, audio
Reviewer – Stacey
Rating – 4 Stars
I received a free copy of this book
Post contains affiliate links.
Tom and Kate's daughter turns six tomorrow, and they have to tell her about sleep. If you sleep unwatched, you could be Taken. If you are Taken, then watching won't save you.
Nothing saves you.
Your knowledge. Your memories. Your dreams.
If all you are is on the Feed, what will you become when the Feed goes down?
For Tom and Kate, in the six years since the world collapsed, every day has been a fight for survival. And when their daughter, Bea, goes missing, they will question whether they can even trust each other anymore.
The threat is closer than they realise…

I started reading this book a few months ago, unfortunately, due to time constraints I had to put it to one side for a while as it wasn't really a book I could dip in and out of – I know I tried – As the story was quite complex, for me anyway. Whilst I love Dystopian fiction some elements felt quite Sci-Fiy (is that even a word) and Sci-Fi isn't something I read often, hence I needed to concentrate on the book.
The story begins in the not too distant future in a world where people are connected to 'The Feed', they do most things via it, including communicate with one another – Even when sat facing each other, spoken language is rarely used. You can see another person's fears, worries, memories, loves, just about everything about another person via The Feed. Just think of today's social media but with the ability to see into the person you are connecting with. This has been happening for years and is a way of life.
However, one day The Feed goes offline. Imagine a world where people don't know how to communicate with one another, let alone speak out loud. There is also another scary element to The Feed disappearing, it is easily hijacked and people are vanishing in their sleep, so when you sleep someone has to watch over you.
The Feed is one amazing book set in a world where people don't know how to be just like we are in today's society. Imagine if the internet vanished and you couldn't access anything via the web anymore, how would life exist, how would businesses exist. Imagine that scenario but with a more serious element to it, you or someone you love could easily be taken by someone or something hijacking the now dead internet. Quite scary to think about.
This is a book that makes you think, not only about the future but about the use and quite often overuse of technology today. It is full of surprises and twists and turns. It did feel a little slow to get going, but once past the first couple of chapters the pace picked up and the book came alive. The characters all fitted together perfectly and whilst the premise of disappearing in your sleep might seem a little far-fetched, the bonding and behaviour of the cast made this book perfectly realistic.
It's hard to believe reading this novel that it is written by a debut author, the writing is that good. If you love Dystopian fiction then this is a book for you. Also, I believe that there will soon be a TV series based on the book. I hope that they keep to the plot and do the book justice. I for one will be watching it.
Reviewed by Stacey
---
Purchase online from:
---
About the Author

Nick Clark Windo studied English Literature at Cambridge University and acting at RADA. As well as writing, he works as a film producer and communications coach.
He lives in London with his wife and daughter. The Feed is his first novel.


---