The Thirty-Nine Steps by John Buchan – Book Review
The Thirty-Nine Steps by John Buchan – Book Review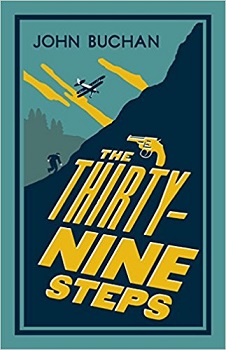 The Thirty-Nine Steps
Author – John Buchan
Publisher – Alma Classics
Pages – 128
Release Date – 23rd February 2017
ISBN-13 – 978-1847496454
Format – paperback
Reviewer – Clive
I received a free copy of this book
Post Contains Affiliate Links

When Richard Hannay finds the corpse of freelance spy Franklin P. Scudder in his London flat, he goes on the run, fearing that his life is in danger. Scudder had previously revealed that he was investigating a ring of German spies, who were conspiring to sabotage Britain's war capability.
Hannay becomes both hunter and hunted as he struggles to unravel the tangled threads of this plot while staying one step ahead of his pursuers, who will stop at nothing to keep their nefarious secrets.
First published in 1915, John Buchan's definitive spy novel was the first in a long line of espionage thrillers to delve into the underbelly of the British establishment. Over a hundred years later, The Thirty-Nine Steps remains resonant, and the various film, television and theatre adaptations of this classic – most notably Alfred Hitchcock's 1935 version – are a testament to its capacity to thrill.

When it was first published, this novel must have been fascinating reading. At the time the UK was at war with Germany and there were no doubt German spies in the country. The book was initially serialised in a magazine and many chapters end on the proverbial cliff hanger. As a result the story is fast paced and full of action.
In a dedication before the book John Buchan describes the book as a "dime novel" or "shocker" where '… the incidents defy the probabilities and march just inside the borders of the possible'. I cannot put it better than that.
The lead character of Richard Hannay is a wealthy man in his late 'thirties who has recently returned from successful business activities in Africa. Bored with London society he initially relishes the intrigue offered by his chance meeting with Scudder but his situation soon deteriorates.
I found the Hannay and the other leading characters somewhat stereotypical but that is not altogether surprising in an action novel of this length. I suspect Buchan's target audience did not want depth and sensitivity; they wanted easy to understand characters and lots of action.
I particularly enjoyed the descriptions of country life in Galloway which would then have been a world away from life in an English city. Yes, it may seem a bit thin and dated but before you question its definition as a Classic novel, consider the thousands of spy thrillers published in the intervening century which follow the same format. I am sure we have all read work from authors who could well have been influenced by John Buchan.
The Thirty-Nine Steps deserves a read if only for its historical status. I have awarded it three stars.
Book reviewed by Clive
Purchase Links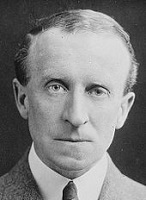 John Buchan, was a Scottish novelist, historian and Unionist politician who served as Governor General of Canada, the 15th since Canadian Confederation.
After a brief legal career, Buchan simultaneously began his writing career and his political and diplomatic careers, serving as a private secretary to the colonial administrator of various colonies in southern Africa. He eventually wrote propaganda for the British war effort in the First World War.
Buchan was in 1927 elected Member of Parliament for the Combined Scottish Universities, but he spent most of his time on his writing career, notably writing The Thirty-Nine Steps and other adventure fiction. In 1935 he was appointed Governor General of Canada by King George V, on the recommendation of Prime Minister of Canada R. B. Bennett, to replace the Earl of Bessborough. He occupied the post until his death in 1940.