Tantalizing Tales of the Horrific and Fantastic by Marie Krepps – Book Review
Tantalizing Tales of the Horrific and Fantastic by Marie Krepps – Book Review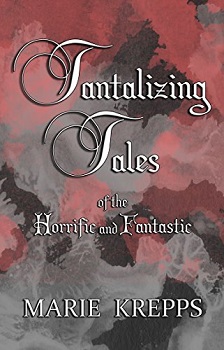 Tantalizing Tales of the Horrific and Fantastic
Author – Marie Krepps
Publisher – lulu.com
Pages – 130
Released – 27th July 2018
ISBN-13 – 978-0359056484
Format – ebook, paperback
Reviewer – Nia
Rating – 3 Stars
I received a free copy of this book
Post contains affiliate links.
Sink your teeth into this book of fantastical short stories that will leave you wanting more.
This collection mixes fantasy, science fiction, horror, and more into one big boiling pot of tastiness. Stories may include princesses, talking birds, alien species, magical items, terrifying creatures, cyborgs, or assassins. You'll get your fill of thrills and chills.

This collection of short stories wasn't as horrifying as I was expecting, I'd recommend this for younger horror fans or those new to the genre. The majority of the stories were sci-fi/fantasy and very light on the gore.
There's a huge variation in the length of stories in this collection, some are a couple of pages long and others about 15 (that's a guess, I didn't actually count!). As a rule, I much preferred the longer stories as the author had the chance to really unleash her imagination and give the reader something to get stuck in to, the shorter stories weren't able to build the suspense quickly enough to get me hooked.
My favourite story in this collection was a clever twist on the Chinese Zodiac and a classic poem (I won't give it away) – it was completely unexpected and a nod to one of my all-time favourite verses.
I could happily read an entire collection of short stories based on mythology by this author!
Reviewed by Nia
---
Purchase online from:
---
About the Author

I live in small town North Carolina and I enjoy writing adult novels of varying genres.
Music is a huge part of my life. It inspires me to write and there is always a song in my head and in my heart. Dreams also influence my work tremendously.
If I'm not writing an exciting story, I am certainly reading one! I like to escape in books to worlds beyond reality, and create my own worlds as well.
I'm a serious movie buff and I love a good fantasy, horror, or sci-fi film! In my spare time, I love watching anime, sewing costumes, gaming, and taking pictures.