The Writing Life of: Rachel Nightingale
Rachel Nightingale
This week on 'The Writing Life of:' I am thrilled to be interviewing author Rachel Nightingale. Rachel will be sharing with us detail of her writing life, telling us all about her latest book 'Columbine's Tale', which was released on 15th September 2018 and answering a few fun questions too.
So without further ado I'll hand you over to Rachel Nightingale. Post contains affiliate links.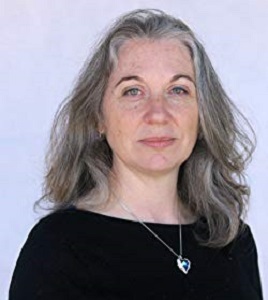 Rachel Nightingale was a highly imaginative child who used to pretend she was a gypsy wandering the woods on her way home from school. Once she realised creating stories gave her magical powers she decided to become a writer.
Some years, and many diversions later, she is the author of Harlequin's Riddle, published by Odyssey Books, and also, rather unexpectedly, an award winning playwright. Columbine's Tale, the sequel to Harlequin, will be released in September 2018 and she is currently writing the final book of trilogy, which by complete coincidence is about the power of creativity to shape the world, whilst desperately trying to ignore all the other stories clamouring for her attention.
She lives in regional Victoria with a very bossy cat, her family, and the cutest dog in the world. The Tarya Trilogy is about the power of creativity and where it can take you. It was inspired by a quote by Broadway actor Alan Cumming about that in-between place you discover just before you step onstage and enter a different world – a place where anything is possible…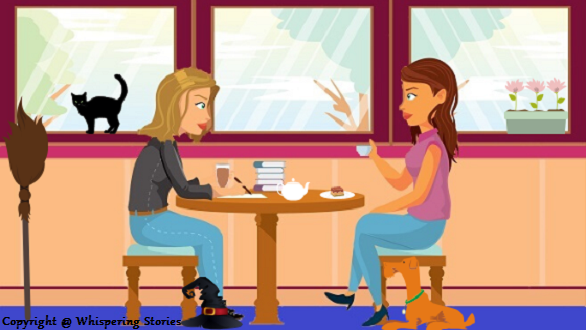 1) As a child what did you want to do when you grew up?
I decided I wanted to be a writer at the age of 8. When I was in high school I briefly toyed with the idea of being a ballerina, but I wasn't the right shape so that was never going to work! Fortunately being a writer doesn't require you to be any particular shape.
2) Who were your favourite childhood authors?
I loved anything magical or mythical: the Dark is Rising series by Susan Cooper, and Joan Aitken's short stories, Dianna Wynne Jones' Chrestomanci books ("You're a wizard, Christopher") and anything by Jane Yolen. Later it was Ursula Le Guin and Ray Bradbury. But I also loved ghost stories. And at one point during high school I read my way through the entire library set of Jean Plaidy books.
3) At what point in your life did you realise you wanted to be a writer?
See question 1! I think it crossed my radar early because my Dad was a writer and introduced me to the love of reading from a very early age.
4) How did you go about following that dream?
I have written throughout my whole life, starting with short stories then moving on to novels. I attended a lot of festivals and workshops and learned what I could about the craft of writing. Then when my kids were in school I did a Masters and then a PhD in Creative Writing. They weren't even a thing when I first went to uni. I'm so glad they are now! Through my studies I met an amazing community of writers who helped me workshop my writing and supported me through the ups and downs of finding a publisher and finally, being published.
5) What is your writing day like? Do you aim for a certain amount of pages or words before you stop for the day?
Ultimately I'd like to write 2000 words a day, but if I can squeeze 1000 in around my work and family responsibilities I'm happy. I wish I could have a set routine where I get up early and write until the words are done, but it usually doesn't work that way because of my responsibilities.
6) Did you ever consider writing under a pseudonym?
I do. The reason is because my real surname is French, so if people wanted to go to a bookshop to ask for my books they a) probably wouldn't remember my name and b) would definitely not be able to pronounce it.
7) Do you have any strange habits before starting, or whilst in the midst of writing?
Only if you consider eating chocolate strange. I call it brainfood.
8) Do you write longhand, typewriter, or on a computer?
If I'm teasing out ideas I do it longhand – it gives them more time to find their shape. But if I'm writing I tend to do it on the computer because I can get lots of words down quickly.
9) How many books have you written? Do you have any unpublished work?
I've written four and a half books at this stage – 2 are published and 2 and a half aren't. The half is the final book in my published trilogy, the Tales of Tarya, so that will be released next year. Of the other two, one is the first book I wrote, so it may never see the light of day – I'm a much better writer now than I was then.
10) Are you a plotter or a pantser?
I'm a plotter with the occasional flash of pantsing! My Tarya books have an ancient mystery at their heart, which is gradually revealed through the three books, so I have had to plot very carefully to work out what to bring out when. At the same time, I love those moments when you're writing and something happens in the story that you didn't plan, but which you absolutely know is right. I'm not so keen on those moments when I'm in the shower and I realise something crucial that needs to be included in the book, because I don't have any waterproof paper.
11) Do you read all the reviews left for your book(s)?
If I'm having a bad day I definitely don't read reviews. Everyone has their own taste, so there are always going to be people who don't like what you do. I think it's definitely worth looking at feedback from readers, but at the same time I have the big picture about what's happening in the story – there's always a reason why I've done what I have or included certain incidents.
Concerning your latest book: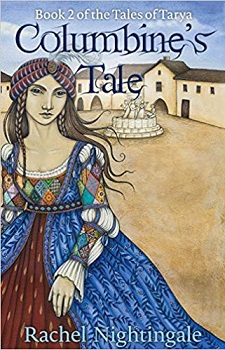 Columbine's Tale


Tales of Tarya Book Two
Author – Rachel Nightingale
Publisher – Odyssey Books
Pages – 312
Release Date – 15th September 2018
ISBN 13 – 978-1925652376
Format – ebook, paperback

For three hundred years the travelling actors of Litonya roamed the land entertaining crowds, but secretly leaving devastation in their wake. Is Mina the only person with the power to stop them?
In the ethereal otherworld of Tarya, Mina begins to master the rare, inexplicable powers attached to her gift for storytelling. She discovers she can touch dreams, influence the real world, and perhaps find out who is manipulating Tarya for dark purposes. In the waking world Mina is on the run, beset by divided loyalties between the travellers, and caught between two men she could love and a brother who desperately needs her help.

12) How long did it take you to get from the idea's stage to your date of publication?
My latest release, Columbine's Tale, is the second book in the Tales of Tarya series. The first book was Harlequin's Riddle. I started writing Harlequin's Riddle when my son was a baby, around the same time I first got the idea for it. It was published last year, and he starts uni next year. So it's been a long journey. Columbine's Tale took less time luckily.
13) How did you come up with the names for your characters?
My novels are set in a second world Italian Renaissance – the setting is almost Italy, just a little different. So for most of my characters I went to an Italian baby name website and found names that had meanings that suited the character. There's one exception to that – one of my characters is named after a figure from literary fiction for a very deliberate reason, but the reason why is up to smart readers to figure out.
14) Can you give us an insight into your main character(s) life?, What makes them tick?
My central character, Mina, is seventeen. She's insightful, talented and eager to see something of the world. At the same time she has a strong sense of responsibility for others, having cared for her uncle for years, and that responsibility draws her into a very dangerous, difficult puzzle when she realises at least one of the actors she is travelling with is causing a lot of harm to innocent people.
15) Which was your hardest scene to write?
In Columbine's Tale the hardest scene was one where Mina realises she can't rescue someone she really wants to help. I think true heroes are those who face their limitations and are still able to move forward, but I felt horrible putting her in that situation.
16) How did you come up with the title of your book?
Harlequin's Riddle was originally titled 'The Dream Players' but when I did a search for that to see there was a book already with that name, I got all sorts of websites about footballers, so I figured people would get the wrong idea about the book. Then one day 'Harlequin's Riddle' came to me out of nowhere and it just felt right.
My series about the Commedia dell'Arte, the travelling players of the Italian Renaissance. The characters everyone knows from the Commedia are Harlequin, Columbine and Pierrot so as soon as I had 'Harlequin's Riddle', the other two titles were easy.
17) Did you get a family member/friend to read your work before sending to the publishers?
Absolutely. I think it's crucial to have beta-readers. I have a range of readers who read for different things. Some, who are writers, read for things like language, structure, point of view – all the technical things that it's important to get write. Then I have readers whose job is to tell me whether it makes sense, whether they like the characters, whether I've messed up continuity, that sort of thing.
18) What process did you go through to get your book published?
I had sent Harlequin's Riddle to as many of the 'big 5' Australian publishers as I could get access to, which wasn't all of them because some required books to be sent through agents. A couple gave me personal, detailed feedback, which is encouraging because they generally only do that if they see real potential in the work, but it was 'close but not close enough'. So I set the book aside for a long time. I knew something wasn't working, but I couldn't work out what. Then I workshopped it with a group of writers, who identified the problem, I did another draft and sent it out again. And luckily the first publisher I sent it to loved it.
19) What did you do once you had written the final word in your book?
That's always the perfect time to pop open a bottle of champagne!
20) What's next for you, writing-wise?
I still have half of the final book in The Tales of Tarya to write, so that's my focus at the moment. After that I'm tossing up two different ideas. I'll have to see which one develops first.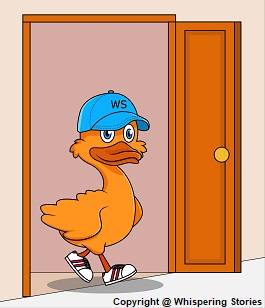 1) What's your favourite food?
Chocolate. Or peppermint. Or, ideally, choc-coated peppermint.
2) If you had a box of crayons and you could only choose one, which colour would you choose?
Purple!
3) What movie could you watch over and over again?
The Princess Bride.
4) What would be the top song on your playlist?
History of Us by the Indigo Girls. It's such a beautiful melody and such a poignant reminder that life is short.
5) If you won millions, what would be your first purchase?
A big block of land so I could put some gorgeous tiny homes or gypsy caravans on it for friends and family who are struggling.
6) A talking duck walks into your room wearing a baseball cap and sunglasses, what's the first thing he says to you?
Whatever it is, I'm sure it'll quack me up.
You can find out more about Rachel Nightingale by visiting the website/social media sites below.
www.rachel-nightingale.info
Facebook
Goodreads
I would like to say a big thank you to Rachel Nightingale for sharing with us details of her writing life, and for a wonderful interview.