Death in a Major by Sarah Fox – Book Review
Death in a Major by Sarah Fox – Book Review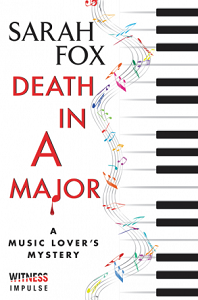 Death in a Major
Author – Sarah Fox
Pages – 227
Publisher – Witness Impulse
Release Date – 5th January 2016
Format – ebook, paperback
Reviewer – Stacey
I received a free copy of this book
Post Contains Affiliate Links

The new season for the Point Grey Philharmonic starts off on a sour note when one of the symphony's wealthy benefactors drops dead in the second Music Lover's Mystery from author Sarah Fox.
When Archibald Major, local big wig and nasty tyrant, drops dead at a post-concert reception, violinist Midori Bishop soon suspects foul play. Although Midori has no intention of getting involved in another murder investigation, that all changes when Jordan – her violin student and the victim's grandson – seeks her help convincing the police that the real killer is his uncle, a low-level criminal.
As Midori digs into the victim's life, she discovers that he was a man who created discord at every turn, even within his own family, and there is no shortage of potential suspects.
When someone close to Midori unexpectedly confesses to the crime, Midori must race to discover the identity of the true killer before an innocent person goes to jail for a crime they didn't commit… and before Midori herself becomes a victim in the killer's deadly encore.

Violinist and member of the Philharmonic Orchestra, Midori Bishop has always been the inquisitive type. When Mr. Major, one of the Philharmonic's benefactors suddenly dies during the orchestra's open-night reception event, Midori suspects foul play.
Returning to the scene of the crime the next day, her suspicions are upheld when the police are sniffing around. And with the results of a pending toxicology results confirmed, Midori's desire to find out who killed Mr. Major goes in to overdrive.
Can she find out the true killer, amidst all of the red herrings, and before the killer finds her?
Midori Bishop is a determined, young woman, who unfortunately is also too nosy for her own good, and can't let things lie.
She seems to love a good puzzle, and what's better to solve than a murder, even though her friends try everything to dissuade her.
Her personal relationship plays out though out the book as a side plot, but I was unsure how I felt about it. I can't say that I enjoyed the relationship plot that much, and it was baffling at times.
I liked the way that the story is full of sub-plots and red herrings to throw you off the scent of the real killer, time and time again.
The book is more than just your usual detective-type book, with it's musical and romantic elements running alongside the main plot, it felt different to other similar novels.
I didn't realise that this book book was actually 'part-two' in a series, though it didn't really matter, as this book worked as a standalone, just as well.
Death in a Major is an enjoyable read, though I had worked a lot of the clues out along the way for myself, before they were revealed.
Book Reviewed by Stacey
Purchase Links


I'm going to speak to Ernest. He looks lonely.
I escaped from the questions I knew Mikayla wanted to ask and approached Ernest, a short and rotund French horn player in his late fifties. His normally pale face was flushed and he stood by himself at the edge of the room, one hand fiddling with the lapel of his tuxedo jacket as he stared through his thick glasses at the crowd of mingling people.
Hi, Ernest.
He started when I addressed him.
Oh. Hello, Midori. He cleared his throat and continued to tug at his lapel. The concert went well, don't you think?
Very.
His gaze drifted back to the crowd in the middle of the room. I followed his line of sight. Mrs. Duffy—Mr. Major's daughter and the mother of one of my violin students—was helping her father into a wheelchair. He sat down heavily and Mrs. Duffy hooked his cane over one of the handles.
A middle-aged woman with glasses and dull, frizzy brown hair hovered behind the wheelchair and patted Major on the shoulder once he was seated. The elderly man must have grown tired of standing, but I doubted that he'd ever grow tired of creeping out women less than half his age.
I returned my attention to Ernest. His eyes were still fixed on Mr. Major and his expression had transformed in the past few seconds from bland to darkly angry.
The drastic, unexpected change startled and puzzled me. Do you know Mr. Major?
What? Ernest swiveled his head toward me, his thick glasses drawing my attention to his gray eyes and their staccato blinking. No. I've never met the man.
Oh. How odd. Why would he have such an intense dislike for a man he'd never met? Unless I was mistaken about whom he'd been focused on.
Ernest pulled a handkerchief out of his pocket and patted his perspiring forehead. Excuse me.
He made a direct line to the nearest waitress and snagged a flute of champagne off her tray. My eyebrows shot up as he gulped down the entire contents in no more than a second. He abandoned the empty glass on a nearby table and moved through the crowd, patting his damp forehead again.
Weird. Or was it? I'd never seen Ernest act like that before, but then again, I barely knew him and had never spent time with him outside of the orchestra. For all I knew he was odd on a regular basis.
Shrugging off Ernest's behavior, I decided to join some of my fellow second violinists who had gathered near one of the grand arched windows, the view nothing but darkness at this time of night. I threaded my way through the clusters of people, making sure to stay behind Mr. Major so he wouldn't see me and have a chance to run his sleazy eyes over me again.
As I passed within a few feet of his wheelchair, Mrs. Duffy spread a small blanket over his knees.
Are you warm enough, Dad?
Major swatted her hand away. Stop fussing. I don't need your incompetent brand of help.
My eyes widened at the rancor in his voice. So did Mrs. Duffy's. She choked back a sob and turned away from her father, quickly squeezing her way through the crowd.
I glared at the back of Major's head. What a mean old bastard.
He continued to grumble under his breath. The frizzy-haired woman patted his shoulder again and spoke to him in quiet, soothing tones.
I set my empty champagne glass down on a nearby table and searched the room for Mrs. Duffy. I spotted her just as she slipped out through a door at the far end of the room. Abandoning my plan to join my fellow violinists, I worked my way through the crowded room until I reached the far door. I pushed it open and slipped out into a corridor lined with the same red carpeting as the reception room.
There was no one in sight. I knew there was an exit around the corner, so it was possible that Mrs. Duffy had stepped outside to collect herself. I wasn't sure if I should continue to look for her to make sure she was okay. Maybe she'd prefer to be left alone. After all, I didn't know her particularly well. I'd taught her son, Jordan, violin for seven years, but had never talked to her for more than a few minutes at a time, and the topics of our conversations had always stayed confined to her son's progress or lesson schedules. Certainly we'd never discussed anything personal or established any sort of friendship.
I turned back to the door, intending to return to the reception room.
What are you doing here? a female voice asked.
I spun around, thinking the question had been aimed at me, but I was still alone.
I need some cash, a man said.
And you think I have extra lying around? I recognized the female voice as belonging to Mrs. Duffy. You know I'm having my own financial troubles since I left Gregory.
I paused with my hand on the doorknob. I knew this was a conversation that wasn't meant for my ears, but somehow I couldn't bring myself to go back into the reception room. I'd always been too curious for my own good.
Two quiet steps took me farther along the corridor, closer to the branch that led to the exit.
Of course I know, the male voice said. I need you to get some money off Dad for me.
Kevin, you know I can't do that. If I even mention your name these days he goes through the roof.
The man let out a string of colorful swearwords, most of them unsavory descriptors aimed at Mr. Major Senior. Can't you pretend it's for you? I'm desperate here, sis.I can't. Mrs. Duffy sounded close to tears. He's not much happier with me than he is with you lately. He thinks I'm a failure since my marriage fell apart.
Has he been bullying you again?
Mrs. Duffy sniffled.
I jumped as a loud bang reverberated along the corridor.
Kevin! Be careful! Mrs. Duffy admonished in a hushed voice. You almost put a hole in the wall.
That damn bastard, Kevin spat. Always trying to make everyone else miserable.
A door opened nearby and a draft of chilly air wafted along the corridor toward me.
Where are you going? Mrs. Duffy asked, her voice tight with worry.
I've had enough of the old miser, Kevin said. And I'm going to make sure we never have to deal with him ever again.
A door slammed shut, the noise jolting me into motion. Not wanting Mrs. Duffy to know I'd overheard the conversation, I slipped back into the reception room and pulled the door closed behind me.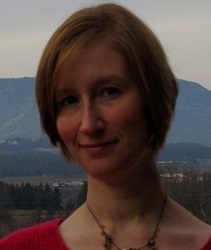 Sarah Fox was born and raised in Vancouver, British Columbia where she developed a love for mysteries at a young age.
When not writing novels or working as a legal writer she is often reading her way through a stack of books or spending time outdoors with her English Springer Spaniel.
Author Links